Greece 'may go elsewhere for new deal on debt'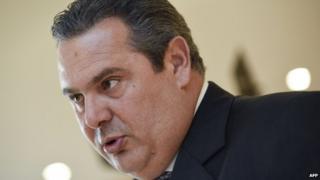 The Greek defence minister has said Greece could turn to the US, Russia or China if it fails to reach a new debt agreement with the eurozone.
Panos Kammenos, who heads the junior coalition partner Independent Greeks, said Greece had an obligation to go to "plan B" if proposals are rejected.
Greece is preparing to plead its case for a new deal at a meeting of eurozone finance ministers on Wednesday.
It says the terms of its €240bn (£182bn) bailout are too severe.
Last month's election of an anti-austerity government led by left-wing Prime Minister Alexis Tsipras has raised fears that Greece could leave the euro.
EU officials have so far rejected his efforts to renegotiate bailout terms, although German Chancellor Angela Merkel has said she will wait to see if Greece puts forward "a sustainable proposal" on Wednesday.
"What we want is a deal," Mr Kammenos said in an interview on Greece's Mega TV.
"But if there is no deal, and if we see that Germany remains rigid and wants to blow apart Europe, then we have the obligation to go to plan B.
"Plan B is to get funding from another source. It could be the United States at best, it could be Russia, it could be China or other countries."
Key dates in Greek government's diary
11 February
Eurozone finance ministers due to hold emergency talks to discuss Greek plans
12 February
EU leaders' summit in Brussels
16 February
Eurogroup meeting due to discuss "state of play" in Greece
28 February
Current programme of loans ends
First quarter of 2015
Greece's funding needs estimated at €4.3bn by end of March
19-20 March
EU leaders' summit
20 July
€3.5bn bonds held by the European Central Bank mature
20 August
€3.2bn bonds held by the European Central Bank mature
Mr Kammenos's right-wing Independent Greeks party joined the coalition after Mr Tsipras's left-wing Syriza party failed to secure a majority in the general election.
Both parties are fiercely opposed to the "troika" of international creditors who set the tough conditions for Greece's bailout.
Greece's Foreign Minister Nikolaos Kotzias is to visit Berlin on Tuesday and Moscow on Wednesday for talks with his German and Russian counterparts.
Syriza's election has led to suggestions that Greece could be repositioning itself closer to Russia, although Greek officials have downplayed the idea.
Greece's debt currently stands at more than €320bn (£237bn) - about 174% of its economic output.
The existing bailout programme ends on 28 February and Greek officials are hoping for a "bridge" financial arrangement to allow talks on an austerity-free reform deal to run from 1 September.
On Wednesday it is expected to propose that its obligations under the current bailout deal be replaced by a 10-step reform process to be agreed with the Organisation of Economic Co-operation and Development (OECD).
Shares in Greek banks fell again sharply on Monday after Finance Minister Yanis Varoufakis warned the eurozone would collapse if Greece were to leave.
He told Italian broadcaster RAI that such an exit would see the euro fall like a "house of cards".