Ukraine crisis: 'Don't arm Kiev' Russia warns US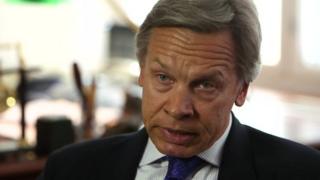 A close ally of Russian President Vladimir Putin has told the European Parliament that "all-out war" could result if the US supplies arms to the Ukrainian government in Kiev.
Alexei Pushkov, a leading Russian MP, was addressing about 100 MEPs in the parliament's foreign affairs committee.
He was speaking after President Barack Obama said he had not ruled out sending arms to Kiev if diplomacy failed.
The option of lethal defensive weapons was being examined, Mr Obama said.
Mr Pushkov, who is on the US sanctions blacklist, warned that American weapons could "expand the war and turn it into a real threat to the whole European security system", Tass news agency quoted him as saying.
He is not on the EU list of top Russian politicians and industrialists subject to a visa ban and asset freeze, imposed after Russia's annexation of Ukraine's Crimea peninsula in March 2014.
He was invited to Strasbourg by the foreign affairs committee. He told European Parliament TV that arms supplies were the first step in the US involvement in the Vietnam War in the 1960s.
"First they sent weapons, then they sent military advisers, then troops to protect military advisers, then troops to fight the Vietnamese."
He warned that it was "an extremely dangerous path" and that "there are a lot of people in the US who still want to fight everywhere", including "trigger-happy" Republican Senator John McCain.
A further warning came from Mr Putin's spokesman Dmitry Peskov, who said on Tuesday that plans to arm Kiev's forces were "aimed at destabilising the situation in Ukraine".
Key peace summit
Mr Pushkov, who heads the foreign affairs committee of the Russian lower house (State Duma), said both sides in the eastern Ukraine conflict had violated the ceasefire agreed in Minsk last September.
Nato, Western leaders and the Kiev government say Russia has sent regular troops and heavy weapons to help the pro-Russian separatists fighting the Ukrainian army. Russia denies that, but acknowledges that Russian "volunteers" are helping the rebels in eastern Ukraine.
President Obama said on Monday he would wait for the results of key peace negotiations in Minsk on Wednesday before taking any further measures.
The leaders of Ukraine, Russia, France and Germany plan to hold talks in the Belarusian capital on Wednesday.
Mr Obama accused Russia of having violated "every commitment" agreed in Minsk last September.
'Double standards'
Speaking on Russian news channel Rossiya 24, Mr Pushkov said many MEPs were ignorant of the true situation in Ukraine.
He said that when he talked about "Kiev's crimes... there was shocked silence".
"Kiev is beyond criticism in the eyes of most deputies [in Strasbourg]. There was not a word about the role of the US, as if it didn't exist, as if it was just a European problem.
"When you present the real facts they don't know how to respond... They have very limited access to information. We need to change that, and such contacts do have a certain impact," he said.
He also called for changes in international law, because of Western "double standards".
He said that if Nato's 1999 Kosovo intervention was treated as a "special case" then "there are lots of exceptions, in that case we can say that Crimea is also an exception".
He told European Parliament TV that Russia would "not change its decision" on Crimea.