Irish abortion law: Fatal foetal abnormality bill rejected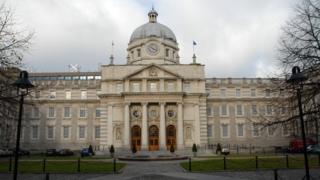 A proposed change to the abortion law to legalise terminations in fatal foetal abnormality cases has been rejected by the Irish parliament.
The bill was proposed by Independent Socialist Dáil member (TD) Clare Daly.
She said it was cruel and inhumane that women carrying a child with a fatal foetal abnormality have to travel to England for an abortion.
The bill was defeated by 104 votes to 20. All Sinn Féin TDs abstained from the vote.
Labour TD Anne Ferris voted against her party's coalition government on the issue.
Fatal foetal abnormality is where a baby in the womb has been diagnosed with a condition that means it will die either in the womb or shortly after birth.
'Unconstitutional'
Ms Daly brought her proposed legislation before the parliament (Dáil) as a Private Members' Bill.
Irish Prime Minister (Taoiseach) Enda Kenny told the Dáil that, ahead of the vote, Cabinet members were given formal legal advice by attorney general that the bill was unconstitutional.
The advice would mean that a referendum would be required to introduced the proposed legal changes.
A number of TDs, including Fianna Fáil leader Micheál Martin and Sinn Féin leader Gerry Adams, criticised the fact that not all Dáil members had been briefed on the legal advice ahead of the vote.
The issue of fatal foetal abnormality is also the focus of a public debate and a high-profile legal challenge in Northern Ireland.
Stormont's Justice Minister David Ford has proposed legalising abortion in fatal foetal abnormality cases. A public consultation on the issue closed last month.
However, the Northern Ireland Human Rights Commission is challenging the minister, saying his proposals do not go far enough.
It believes abortion should be the legalised in cases of serious foetal abnormality, rape and incest.