Greeks brace for confrontation in Brussels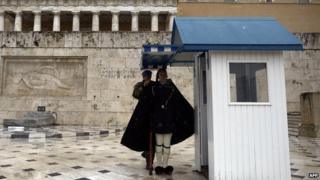 Politics has become as unpredictable as the winter weather.
Snow flakes swirled around the Greek parliament as MPs debated and approved a government programme that sets this country on a potential collision course with the rest of the eurozone.
"We cannot go back to the era of bailouts," said Prime Minister Alexis Tsipras, as he closed the debate in defiant mood. "That would mean the end of popular sovereignty."
But the public dispute over the future of austerity and the hated Greek bailout programme is getting increasingly ugly.
The government dominated by the radical left Syriza has put European noses out of joint.
Greece's creditors "can't negotiate about something new", said the German Finance Minister Wolfgang Schauble at a G20 meeting in Istanbul.
And if the new government in Athens does not want the final payment from the current bailout programme?
"Then," said Mr Schauble, "it's over."
'Room for manoeuvre'
Everyone in Greece has been watching closely as the rhetoric hardens, because they all have something at stake.
At a union office in a northern suburb of Athens, a radio programme was going on air.
Former employees of the former state broadcaster, ERT, who were abruptly fired in 2013, are still working without pay, determined to talk to the nation.
Their makeshift studio is just across the road from their old headquarters, and Syriza has promised to rehire them and reopen ERT.
"If we're building a new country," argued radio host Andreas Papastamatiou, "we have to [give people] the proper information."
"But we must [also] find a way to live together as European countries. Not as the emperor and his subjects."
Opinion polls suggest that a growing number of people like the fact that Greece is trying to stand up for itself, and is taking its argument to the rest of the Europe.
But they know they will not get everything they want.
Now as eurozone finance ministers prepare to meet for what could be a stormy emergency session, the Greek government is floating proposals it clearly sees as a compromise.
"What we are proposing," the Minister for International Economic Affairs, Euclid Tsakalotos, told me, "is that we are given some room for manoeuvre."
"We are presenting a fair case - you cannot reform when people are frightened and uncertain. You need a certain amount of stability first."
'Build on our successes'
One version of the government's plan suggests that 30% of the old bailout programme should be disbanded, but Syriza is not arguing for that figure to be set in stone.
It is determined, though, that a series of new reforms should be introduced to replace unpopular measures that were part of the bailout agreement.
The government is likely to prioritise 10 new reforms to begin with, and it will focus on issues such as corruption and tax evasion.
At the same time it will also increase social spending to help the poor, and to tackle what it calls Greece's humanitarian crisis.
Another part of Syriza's plan for a new approach is to reduce the country's debt burden significantly.
Its preferred option is to swap a significant chunk of debt for bonds linked to future economic growth.
"We think we're being very reasonable," Mr Tsakalotos argued. "We have a mandate that says that the old programme failed, that we should do something different."
But EU officials say Syriza's proposals are unlikely to be acceptable in their current form, and further compromise will be needed.
Greece's creditors in the eurozone, led by Germany, still want to see a commitment to a reform programme supervised by outsiders.
It would have to incorporate most of the policies accepted by the former Prime Minister Antonis Samaras, who remains critical of Syriza.
"I can see you want to build on our successes," Mr Samaras said in the parliamentary debate, "but I'm afraid you're going to destroy what we achieved."
"We won't oppose you on everything, but we won't let you steer the country onto the rocks."
'Only way is up'
An hour's drive west of Athens tugboats pull large cargo ships along a narrow channel between the sheer limestone walls of the Corinth Canal. There is no room for manoeuvre - a familiar story for the Greek economy.
But it is not hard to find out why Syriza is determined to negotiate some wiggle room. In a cafe overlooking the entrance to the canal, locals described the economy as a disaster, and their own prospects as bleak.
The cafe owner, Vassiliki Kourtaki, said she was well aware of the increasingly bitter dispute between Greece and some of its Eurozone partners.
But the sense of looming confrontation no longer scared her.
"Scary is what we have now," Vassiliki said. "Nothing is going to go worse, every day is the worst day."
"The government has to do something now, because we need a lot of help.
"And when you are down, the only way is up."
That is where Syriza believes its mandate comes from. And the tone of the prime minister's speech suggests that he is willing to take his country right to the brink if necessary.
The recent history of the European Union suggests that compromise is still on the cards.
But if there is no deal by the end of the month the money will run out. And there is a clear and present danger of failure, with consequences impossible to predict.