German former President Richard von Weizsaecker given state funeral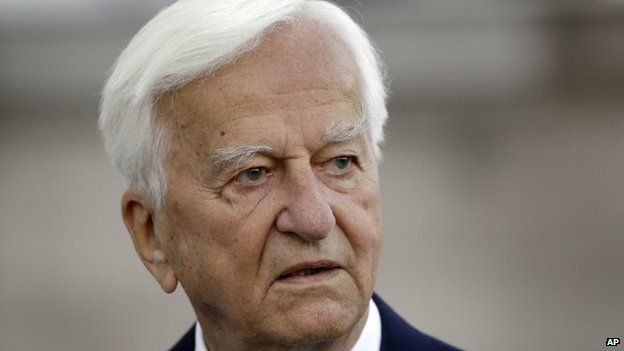 The former German President Richard von Weizsaecker is being laid to rest in a state funeral in Berlin.
Mr Weizsaecker, who died in January aged 94, was Germany's head of state from 1984 to 1994, presiding over German reunification.
A former soldier who fought in World War Two, he is best remembered for persuading Germans to confront their country's Nazi past.
He was mayor of Berlin before being elected president.
A member of one of Germany's most distinguished aristocratic families, Mr Weizsaecker rose to Germany's highest - if largely ceremonial - office which he held for a decade.
He told the then West German parliament: "All of us, whether guilty or not, whether young or old, must accept the past. We are all affected by it and liable for it. Anyone who closes his eyes to the past is blind to the present."
He described 8 May - the day the war ended - as a "day of liberation" which freed Germany from National Socialist tyranny.
Germany's current President Joachim Gauck said his predecessor, during a momentous period in German history, "stood worldwide for a Germany that had found its way to the centre of the democratic family of peoples.
In 1985 Mr Weizsaecker became the first West German head of state to visit Israel and a year later he was the first German president to address a joint session of the UK parliament.