Michael D Higgins first poem as president of Ireland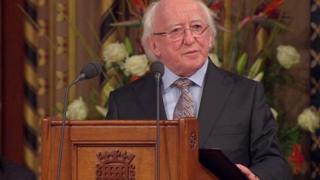 Irish President Michael D Higgins has published his first poem since becoming head of state in 2011.
"The Prophets are Weeping" is thought to have been inspired by the plight of refugees in Syria and elsewhere.
It also touches on the rise of religious extremism, with lines like: "Rumour has it that, the prophets are weeping at their texts distorted, the death and destruction imposed in their name."
The 73-year-old had a long and prolific career as a published poet alongside his political life, but the demands of the presidential role have slowed his literary output.
He completed the poem last November on his return from a three-week visit to Ethiopia, Malawi and South Africa.
Speeches
While he has published four volumes of poetry in the past, a spokesperson said he would continue to write but was unlikely to release another one due to the demands on his time as head of state.
However, he may publish a volume of his speeches.
Some of his most prominent speeches were delivered during his historic four-day state visit to the UK last April, when he addressed both Houses of Parliament.
In one engagement at the birthplace of William Shakespeare in Stratford-upon-Avon, he made a speech about the English language, its role in Ireland, and about the shared dialogue between two islands.
He said: "It is the business of living souls to breathe life into words, and I have no doubt but that our long conversation in a shared language will continue into the far future to breathe new life, and the lightning of our different imaginations, into a common human purpose."
The Prophets are Weeping
To those on the road it is reported that
The Prophets are weeping,
At the abuse
Of their words,
Scattered to sow an evil seed.
Rumour has it that,
The prophets are weeping.
At their texts distorted,
The death and destruction,
Imposed in their name.
The sun burns down,
On the children who are crying,
On the long journeys repeated,
Their questions not answered.
Mothers and Fathers hide their faces,
Unable to explain,
Why they must endlessly,
No end in sight,
Move for shelter,
for food, for safety, for hope.
The Prophets are weeping,
For the words that have been stolen,
From texts that once offered,
To reveal in ancient times,
A shared space,
Of love and care,
Above all for the stranger.