MEPs back EU anti-terror measures after Paris attacks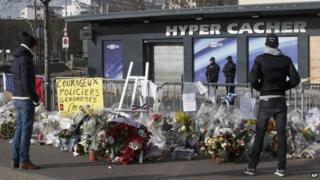 The European Parliament has called for greater sharing of information among security forces to combat terrorism, in the wake of last month's attacks in Paris in which 17 people were murdered.
The non-binding resolution comes ahead of a summit of European leaders on Thursday where counter-terrorism measures will top the agenda.
The MEPs agreed to work towards a deal to share airline passenger data by the end of the year.
However, this measure is controversial.
Known as the EU Passenger Name Record (PNR), it failed to get the backing of the parliament's civil liberties committee in 2013 and the plans have raised concerns about data protection and personal privacy.
The information collected by airline companies when people check-in or reserve flights would be used to detect and prevent terrorist threats.
Although some EU member states, including the UK, already record passenger names, the new measure would harmonise the practice across the 28-member bloc.
---
---
'Trigger-happy'
The MEPs' resolution called on the European Commission and member states to ensure the proposals were necessary and proportionate.
Dutch liberal MEP Sophie in 't Veld said the commission should provide adequate safeguards to protect personal data and called for a "tailor-made and evidence-based" security response to the terror threat in Europe.
Her group would not side with "trigger happy cowboys" who wished to pass "repressive" measures as a knee-jerk response, she added.
UK Conservative MEP Timothy Kirkhope, who has been working on the PNR proposals, welcomed the majority support for the resolution and said PNR would "close the gaps in our intelligence armour".
He said he would work to find a deal before the end of the year that would "satisfy the concerns of those groups who rejected the report in 2013".
Greece was also very much on the minds of MEPs. Thursday's summit in Brussels will be the first for the new Greek Prime Minister Alexis Tsipras.
The leader of the conservative EPP group, Manfred Weber, said his party respected the result of the Greek elections, but he warned that existing agreements on the country's bailout should not be thrown out.
Mr Tsipras had to learn that he had lied to his electorate, and made promises that he could not keep, he said.
But Nigel Farage of UKIP, who is co-leader of the Eurosceptic EFDD group, said he hoped the new Greek government would "stand firm" and called for the results of the Greek election to be respected.
Mr Farage said he suspected that the new Greek finance minister Yanis Varoufakis, was the "real deal" despite having the appearance of an "off-duty nightclub bouncer".