Strauss-Kahn grilled over 'love nest' in pimping trial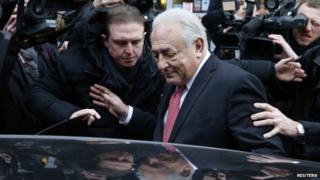 Ex-IMF boss Dominique Strauss-Kahn was grilled on his use of a "bachelor pad" for orgies as he appeared for a third and final day at his trial for aggravated pimping in France.
The court also heard how he sent text messages asking for women - described as "gear" - to be sent for sex parties.
Mr Strauss-Kahn said neither proved he instigated prostitution.
The one-time presidential hopeful denies helping to procure sex workers for a hotel prostitution ring in Lille.
He has argued that he did not know the women at sex parties were prostitutes.
'Discreet'
The judges' attention turned on Thursday to the use of his private apartment in a chic Parisian neighbourhood. Prosecutors said it was made available for "paid sexual encounters" - showing that Mr Strauss-Kahn facilitated prostitution.
Although using prostitutes is not illegal in France, supplying them or assisting in supplying them is.
But the former head of the International Monetary Fund insists he was unaware that women involved in the parties were prostitutes.
He told the court in Lille that he rented the apartment in the name of a friend and kept it secret because he was married at the time and he needed a "discreet" place to meet other politicians and women.
The court also discussed text message conversations between Mr Strauss-Kahn and his friend and co-accused Fabrice Paszkowski, who has already admitted to organising and financing the parties.
Mr Strauss-Kahn said he regretted the "inappropriate" language used to describe women - referring to them as "gear" and "gifts" - but that said he did not organise the orgies.
'Fed up'
If found guilty, the one-time potential candidate for the French presidency - known in the media as DSK - could face up to 10 years in jail and a €1.5m (£1.13m) fine.
On Wednesday Mr Strauss-Kahn expressed exasperation with persistent questions about his sexual practices.
He said it was "absurd" to suggest that his preference for "rougher" sexual acts would spur him to seek out prostitutes.
One of the former prostitutes, Jade, had earlier in the day told the court that Mr Strauss-Kahn had engaged in sodomy without her permission.
He said later that he had not been aware of her objection and apologised but reminded the court that he had not been put on trial for "deviant sexual acts".
"I'm beginning to get a little fed up," he said, his voiced raised, when a lawyer acting for the prostitutes cross-examined him about the incident.
A total of 14 defendants are on trial for "aggravated pimping", including luxury hotel managers, a lawyer, a former police commissioner and a brothel owner nicknamed "Dodo the Pimp".
It is the latest sex-related allegation to trouble Mr Strauss-Kahn, who stepped down from the IMF after being accused of attempted rape by a hotel maid in New York in 2011.
The case ended his political career, although the charges were eventually dropped and he reached a settlement with the maid, Nafissatou Diallo.