Russia: No promises to release Ukraine pilot Savchenko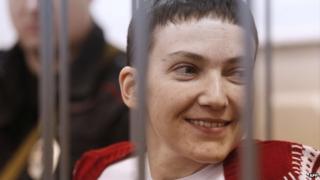 Russia says it has made no promises to free Ukrainian military pilot Nadia Savchenko, captured in June, despite claims following the Minsk peace deal.
Kremlin spokesman Dmitry Peskov said the case would be settled in court.
Emerging from peace talks on Thursday, Ukraine's president said he had been told Ms Savchenko would be freed.
The pilot is in prison in Moscow awaiting trial for alleged involvement in the deaths of two Russian reporters in the conflict in eastern Ukraine.
Her case has become the subject of an impassioned Ukrainian media campaign portraying her as a national hero in the fight between pro-Russian separatists and Ukrainian government forces.
Her release had been mooted under the agreement reached in Minsk on Thursday, which includes prisoner exchanges.
But the Kremlin's spokesman said that no assurances had been given.
"The Ukrainian side raised the issue about Savchenko at the summit," Mr Peskov was quoted as saying.
"An investigation against Savchenko is under way and the court will decide on the extent of her guilt or innocence."
Ukrainian President Petro Poroshenko said he had pressed Russia's Vladimir Putin on the matter and had been told she would be freed "shortly".
The Ukrainian government says Ms Savchenko - who has been on hunger strike for two months - was abducted by pro-Russian separatists in June and handed over to the Russian authorities.
But Russia says she crossed the border herself, posing as a refugee.
The Russian authorities have charged her with aiding the killing of two Russian TV journalists in a mortar attack in the rebel-held Luhansk area in June.
Moscow's Basmanny District Court refused her application to be released on bail earlier this week.
Since her detention, Ms Savchenko - a fashion designer-turned-air force helicopter pilot - has been elected to the Ukrainian parliament as a member of the Fatherland party, led by former Prime Minister Yulia Tymoshenko.
Doubts remain about the peace deal for Ukraine, which was agreed in the Belarusian capital following marathon negotiations between Russia, Ukraine, Germany and France.
New shelling was reported in the rebel-held eastern cities of Donetsk and Luhansk on Friday, ahead of an agreed ceasefire due to begin after midnight (22:00 GMT) on Saturday.