Stay in France, PM Valls urges Jews after attacks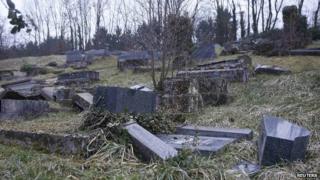 Prime Minister Manuel Valls has urged France's Jews not to emigrate after the desecration of some 300 Jewish graves and a gun attack at a Danish synagogue.
A local prosecutor said five males aged 15-17 were being questioned following the cemetery attack in eastern France.
Mr Valls told French Jews: "France is wounded with you and France does not want you to leave".
He also criticised Israeli leader Benjamin Netanyahu for inviting European Jews to emigrate to Israel.
Former French Foreign Minister Roland Dumas said Mr Valls' comments had probably been influenced by his Jewish wife - but those remarks were attacked by some Socialist politicians.
The five minors currently in custody are from the region of Sarre-Union in Alsace where the desecration took place.
The prosecutor added that they were apprehended after the youngest of the group came forward, shocked by the public reaction to the incident.
The weekend's attacks in Copenhagen and eastern France have fuelled alarm over a rise in anti-Semitism in parts of Europe.
Four Jewish men were among the 17 victims of the Paris terror attacks last month.
They were shot by an Islamist at a Jewish supermarket, after 13 people had been killed by two Islamist brothers who broke into the Charlie Hebdo magazine offices. A policewoman was also murdered a short distance from a Jewish school.
On Sunday, images on social media showed the gravestones in Sarre-Union daubed with swastikas and Nazi slogans.
On his Twitter feed, Mr Valls said every effort would be made to catch the perpetrators of an "ignoble and anti-Semitic act, an insult to memory".
Speaking on RTL radio, he told French Jews that "France tells you again of its love, support and solidarity".
"That love is much stronger than the acts of hatred, even if such acts are repeated," he said.
He also said he was "sorry" that Prime Minister Netanyahu had called on European Jews to move to Israel, saying: "The place for French Jews is France."
In the terror attacks in the Danish capital Copenhagen on Saturday a Jewish man guarding a synagogue was shot dead and two police officers were wounded. The suspected gunman was later killed by police.
Mr Dumas's controversial comments about Mr Valls came after reporters asked him if Mr Valls had come under Jewish influence.
"Probably," the former Socialist foreign minister replied. "He has personal alliances which make him prejudiced. Everyone knows he is married to someone - a very good person, by the way - who has influence on him." He did not directly name Mr Valls's Jewish wife Anne Gravoin.
Two Socialist MPs - Bruno Le Roux and Luc Carvounas - expressed disgust at Mr Dumas's comments, AFP news agency reported. Mr Dumas, 92, was foreign minister from 1984-88.