Plaintiffs in Strauss-Kahn case drop damages claim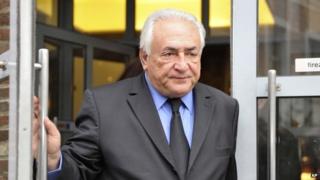 Five out of six plaintiffs in the aggravated pimping trial of former IMF boss Dominique Strauss-Kahn have dropped their accusations against him.
They have abandoned damages claims because they say they have no proof.
Correspondents say the surprise move at the start of the final week of the trial is a boost for the defence.
Later, the state prosecutor will deliver his summing-up to the judge, ending with a plea for a conviction or an acquittal.
Mr Strauss-Kahn argues that he was unaware that women involved in orgies with him were paid sex workers. For Mr Strauss-Kahn to be found guilty, it has to be proved that he knew the women were prostitutes.
Court officials say that although lawyers for four prostitutes and an association that filed a suit against him are abandoning their pursuit of Mr Strauss-Kahn, some will remain civil parties in the criminal case against his 13 co-defendants.
Correspondents say the state prosecutor could ask for an acquittal of Mr Strauss-Kahn, because he has always been sceptical about securing a conviction - in contrast to the investigating magistrate.
Prosecutors last week said that the one-time presidential hopeful's private apartment in a chic Parisian neighbourhood was made available for "paid sexual encounters" - showing that Mr Strauss-Kahn facilitated prostitution.
He told the court in Lille that he rented the apartment in the name of a friend and kept it secret because he was married at the time and he needed a "discreet" place to meet other politicians and women.
If found guilty, Mr Strauss-Kahn - known in the media as DSK - could face up to 10 years in jail and a €1.5m (£1.13m) fine.
Among the 14 defendants are on trial for "aggravated pimping", are luxury hotel managers, a lawyer, a former police commissioner and a brothel owner nicknamed "Dodo the Pimp".
It is the latest sex-related allegation to trouble Mr Strauss-Kahn, who stepped down from the IMF after being accused of attempted rape by a hotel maid in New York in 2011.
The case ended his political career, although the charges were eventually dropped and he reached a settlement with the maid, Nafissatou Diallo.