Walkinstown, Dublin: Fatal shooting may have been mistaken identity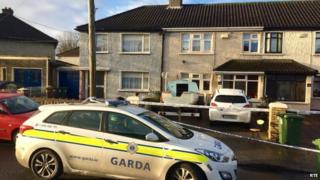 Police believe the murder of a man in Dublin on Sunday may have been a case of mistaken identity.
Edward Nugent, 64, was shot at his home at Harty Avenue, Walkinstown, shortly before 21:30 local time.
A gunman called to the house and fired four times through the front door.
Mr Nugent was approaching the door from inside and was hit twice. He was taken to St James' Hospital where he died.
A burnt-out car was later found abandoned at nearby John McCormack Avenue, a short distance from the scene.
It had been stolen earlier at Kevin Street in Dublin. Police have appealed for witnesses.