Lampedusa migrant centre conditions 'desperate' after rescues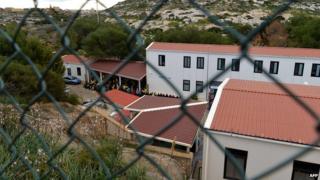 Conditions at a migrant reception centre on the island of Lampedusa are "getting desperate", an Italian official has told the BBC.
There are now more than 1,000 men, women and children housed at the centre, which is four times its current capacity.
Some 2,700 migrants have been rescued from the Mediterranean since Saturday, the UN's refugee agency (UNHCR) said.
Boats carrying more people are due to dock at Lampedusa later on Tuesday.
The influx has added more pressure to the already overflowing reception centre.
The centre's capacity has been reduced to 250 while refurbishment work is being carried out. It can normally accommodate 400 people.
The BBC's Tom Burridge says he has seen bus loads of men, women and children being transported around the island.
The charity Save the Children said the situation was tense with supplies of food and other essentials running low.
Around 2,000 of the migrants were saved during a major operation off the Libyan coast over the weekend.
The Italian coastguard said its members were threatened by Kalashnikov-wielding men as they attempted to rescue people from dinghies.
---
At the scene: Tom Burridge, BBC News, Lampedusa
Most of the 1,200 people we spoke to at Lampedusa's overcrowded reception centre were men in their early 20s and teens.
Abdi Najid from Somalia said he travelled across five countries to reach Libya, where he paid smugglers several thousand dollars for the right to travel on their one of their boats. The 15-year-old now wants to live in Norway.
Shennik from Nigeria told us he left Libya because there was fighting in the area where he was living. "In Libya they don't have respect for humanity", he said.
Moudo Mjie, 30, from Gambia said the conditions at the centre, where he's sharing a small bed with another man, were not good.
He was on board a boat rescued last week, when 29 people died of hypothermia after they were rescued. Many more people went missing. He now wants to get to Switzerland and find a job.
---
Lampedusa's proximity to North Africa has made it a regular target for tens of thousands of migrants attempting to reach Europe. About 3,500 died in 2014.
Earlier this month, at least 300 people drowned when the dinghies they were travelling in got into trouble.
UNHCR spokesman Adrian Edwards said increasing instability in Libya was a contributing factor to the large number of migrants attempting the perilous crossing.
"Smuggling networks are operating with much greater impunity," he added.
There has also been debate over whether European search and rescue efforts are adequate.
Italy's major patrol and rescue operation Mare Nostrum ended last year. A smaller scale EU operation, Triton, took over.
Last week, the UNHCR said better lifesaving provisions were urgently needed to avoid further tragedies.
But other European countries, including the UK, said a rescue service could encourage more migrants to make the journey.