DNA meat tests: Ireland's growing appetite for food chain checks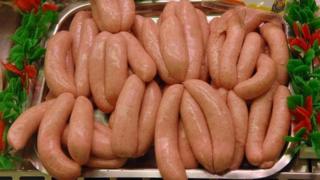 This week, the Irish Farmers' Association released the results of its latest pig meat DNA tests and said almost a third of the pork it tested was not farmed in Ireland, despite being sold as Irish goods.
The IFA said it was "horrified" to discover that pork on sale in Irish shops is not 100% Irish, but can consumers at least be confident that it is 100% pig meat?
DNA testing of meat products has been taking place in the Republic of Ireland for more than a decade.
But the practice made international headlines in January 2013, when Irish food safety inspectors uncovered the Europe-wide horsemeat scandal.
'Leading the way'
The Food Safety Authority of Ireland (FSAI) was first to reveal that horse DNA had been found during tests on some beefburgers sold in UK and Irish supermarkets.
A total of 27 products labelled as beef were analysed for the 2013 tests, and 10 of them were found to contain horse DNA, while 23 contained pig DNA.
The IFA's national pigs and pig meat committee chairman, Pat O'Flaherty, said contamination with other species of meat was not the focus of the IFA's current pork DNA tests.
"Pig meat is the cheapest form of meat, there is no question of that," he said.
However, he said consumers should still be aware that rules on additives can vary from country to country, which is why we should always be aware of where our food comes from.
He pointed out that there was a 12% limit on the percentage of water that could be added to processed pork in Ireland, whereas it can be up to 20% in some European countries.
Both the IFA and FSAI have used the Irish firm IdentiGEN to carry out DNA meat testing on their behalf.
The company was established in the late 1990s, as a spin-out firm from the Institute of Genetics, Trinity College, Dublin.
IdentiGEN now has operations in the USA, Canada and the UK.
One of the firm's founders, Dr Ronan Loftus, said that since the horsemeat scandal there was a "growing appetite" among consumers for more information on where their food comes from and how it is produced.
He said the company has been hired to put in place DNA-based monitoring programmes on behalf of a number of large food firms and individual meat processing companies.
However, he said the Republic of Ireland is leading the way in terms of being the first country to introduce a nationwide pork DNA certification programme.
'Greater transparency'
When asked whether pig meat tests would uncover species contamination, Mr Loftus said that while this programme does not specifically test for that, the fact that Irish pork meat is being "subjected to rigorous DNA-level scrutiny tends to lead to greater transparency and accountability".
He said it reinforced "a culture of compliance within in the supply chain".
The firm is now working with the Ulster Farmers Union (UFU) on advanced plans to introduce a pig meat DNA certification programme in Northern Ireland.
Last month, the UFU said it had written to all pig farmers in Northern Ireland, outlining its aims to build up a databank of DNA of all the boars used in the production of Northern Irish pig meat.
'Extra assurance'
"Based on this scientific evidence, the UFU will then identify companies who are using imported pig meat which may not meet the animal health and welfare standards of Northern Ireland and expose anyone who is misleading consumers about the origin of their products," a UFU statement said.
"This DNA programme will therefore offer extra assurance to local consumers and retailers about the origin of their pig meat," it added.
Mr O'Flaherty said Irish pig farmers turned to DNA testing because they were unhappy with the existing paper trails as a guarantee of meat origin.
Seven years ago, the industry was dealt a severe blow when it had to recall all Irish pork products made over a three-month period due to a contamination scare.
The recall began in December 2008 after dioxins were found in slaughtered Irish pigs, thought to have eaten contaminated feed.
Tests on the slaughtered pigs showed some pork products contained up to 200 times more dioxins than the recognised safety limit.
Learned lessons
A number of farms in Northern Ireland had also used the feed, and pork products from both sides of the Irish border were removed from supermarket shelves on the advice of the UK Food Safety Authority.
Mr O'Flaherty said the industry learned lessons from the incident, and was thankful that the feed was detected in carcasses as opposed to at the processing stage.
He said they realised that if imported meat was cut up and labelled as "Irish produce", the whole industry in Ireland could be hit by a future contamination scare.
The UFU said it is likely take up to a year before its own boar databank is complete "to a level of accuracy which will allow testing to begin and pig meat products to be analysed".