Denmark killings: Funeral for Jewish synagogue guard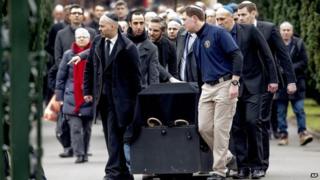 Hundreds of people have attended the funeral of one of two men killed during last weekend's attacks in Copenhagen.
Security was tight as mourners bid farewell to Dan Uzan, 37, who was serving as a volunteer synagogue security guard when he was shot.
The gunman, Omar el-Hussein, targeted the synagogue after an attack on a free speech seminar organised by a controversial Swedish cartoonist.
Security chiefs have since said they were warned El-Hussein might be a risk.
Intelligence officials received the warning from prison authorities who came into contact with the 22-year-old while he was serving a jail sentence.
However they added that there was no indication he was planning an attack.
El-Hussein had been released from prison two weeks before the shootings after serving a sentence for grievous bodily harm.
Wednesday's funeral took place amid high security, with police and snipers deployed to the scene.
"Everybody in our community knew Dan," Dan Rosenberg Asmussen, the head of the Danish Jewish community, told the AFP news agency.
"He was a very fine example for the whole community."
Swedish cartoonist Lars Vilks - who has stoked controversy by drawing caricatures of the Prophet Muhammad as a dog - is thought to have been the main target of El-Hussein's initial shooting, which took place on Saturday at a Copenhagen cafe.
Finn Noergaard, 55, a documentary film-make was killed during that attack.
Hours later El-Hussein turned his weapons on Copenhagen's main synagogue, killing Mr Uzan as he guarded the building during a Bat Mitzvah ceremony.
Danish opposition politicians have now called for an investigation into whether police and the intelligence services could have done more to prevent the attacks.
Two men have been charged with providing and disposing of the weapon used in the shootings and helping the gunman to hide.
However, Prime Minister Helle Thorning-Schmidt said El-Hussein did not appear to be part of a wider terror cell.