France PM Valls wins confidence vote over market reforms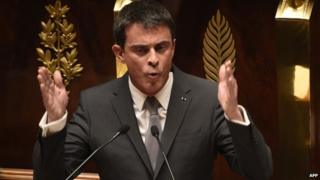 France's Socialist government has survived a parliamentary confidence vote over a controversial set of labour market reforms.
The motion was triggered after PM Manuel Valls forced through the changes without parliamentary approval.
Socialist leaders told their MPs they would be expelled from the party if they failed to support the government.
The 234 votes against the government were well short of the number required to bring it down.
Mr Valls had deployed a rarely-used constitutional provision to implement the labour market reforms, which include plans to scrap barriers in law firms and extend shop opening hours.
Supporters say the measures should make it easier for young people with law qualifications to get jobs as solicitors, bailiffs or court clerks.
Mr Valls wants the new legislation to send a message to the European Commission that his government is serious about labour market reform.