Greece crisis: German press short on patience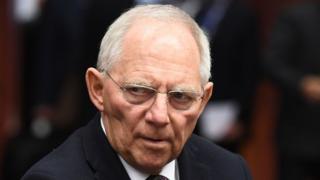 Many in the German press back their country's hard line in the debt negotiations with Greece, although some urge Berlin to show understanding.
Several commentators back German Finance Minister Wolfgang Schaeuble's swift and curt rejection of a Greek proposal for a six-month extension of its eurozone loan programme.
"Schaeuble knows how to speak in a language Athens can understand," one says in a headline in Die Welt.
While Mr Schaeuble's response was perhaps "undiplomatic" and "clumsy", commentator Andrea Seibel writes, he is "protecting the interests of the German tax payer and therefore of those of Europe as a whole.
"So far he has done quite well with his fair approach," she adds.
A commentary by Stefan Kornelius in the Sueddeutsche Zeitung concedes that the German rejection may have been "too brusque".
"Rarely was one of the euro saga's moments of crisis so characterised by destructiveness, mistrust and - unfortunately - almost insuperable dislike."
But, it adds, "as long as there is a lack of credibility on the part of the main Greek players, a responsible finance minister cannot put his signature under further aid".
'Fed up'
German impatience with Greece's position was evident even before the latest development.
On Thursday, the tabloid Bild made waves with an article headlined "Russian or Greek - who is more dangerous for us?", over a picture of Russian President Vladimir Putin and Greek Prime Minister Alexis Tsipras.
"Two aggressive leaders torment Europe," the paper commented.
"The Greek government appears to believe it can treat its partners like fools," commentator Klaus-Dieter Frankenberger wrote the same day in the Frankfurter Allgemeine Zeitung.
"It is time the Greek government woke up to reality and recognised who the debtor and who the creditor is - and understood how great many European countries' displeasure about the Greece issue is," he said.
"Many citizens are completely fed up."
'Harsh'
Some German newspapers, however, are dismayed at what they see as their government's apparent unwillingness to compromise.
Friday's edition of the left-leaning Berlin daily Tageszeitung has a front-page cartoon of Mr Schaeuble casting thunderbolts from the top of a mountain of money, under the words "Nein! Nein! Nein! Nein! Nein!".
"With his harsh 'No' to the Greek government's request for aid, Schaeuble is shooting to bits what is perhaps the last chance for an agreement in the debt drama," the daily comments in an editorial.
Pointing out that the Greek side has shown a readiness to give ground, the paper accuses Germany of asserting its authority in EU economic policy as a whole.
"Schaeuble is using his veto to force all of Europe to toe the German line."
A commentary in Der Tagesspiegel also urges Greece's partners to show understanding for its plight.
"Athens urgently requires financial room for manoeuvre, in order to soften the social hardships of the crisis," it says, and warns of the wider dangers posted by the Greek state possibly going bankrupt.
"It is in all participants' interest to ease the crisis."
BBC Monitoring reports and analyses news from TV, radio, web and print media around the world. You can follow BBC Monitoring on Twitter and Facebook.