Irish tax authority loses court appeal over Irish language law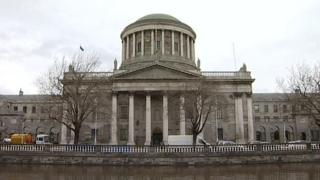 The Irish tax authority has lost a High Court appeal over its breach of a law compelling public bodies to include the Irish language in public documents.
Under the Official Languages Act, public bodies must communicate with the general public either in Irish only or bilingually, using English and Irish.
The Revenue Commission faced complaints over a tax booklet distributed to 1.6m households during 2012 and 2013.
An Irish version of the booklet was limited to only a few thousand homes.
Members of the public lodged complaints about the English-only version of the property tax document with the Office of the Language Commissioner.
The watchdog began an investigation and found that the Revenue Commission had breached Article 9.3 of the Official Languages Act.
Article 9.3 states: "Where a public body communicates in writing or by electronic mail with the general public or a class of the general public for the purpose of furnishing information to the public or the class, the body shall ensure that the communication is in the Irish language or in the English and Irish languages."
However, the Revenue Commission did not accept the decision of the Office of the Language Commissioner and appealed against it in Dublin's High Court late last year.
The Irish state broadcaster, RTÉ, said it was the first appeal of its kind against the language watchdog.
Lawyers for the Revenue Commission argued in court that the tax booklet was not a case of communication with the public in general, because it had been placed in envelopes and addressed to individual households.
But on Friday, a High Court judge upheld the language commissioner's finding that distribution of the English-only booklet had breached the law.
The judge said that if the Revenue Commission's defence was accepted, it would mean that obligations under the Official Languages Act could always be avoided simply by placing information or communications in envelopes.
He said that would not be in keeping with the spirit of the 2003 legislation.
The court will rule on legal costs in the case next week.