Ukraine crisis: Both sides agree to start heavy weapons withdrawal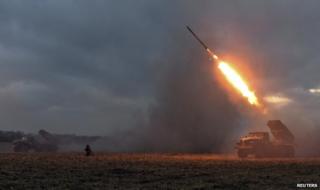 The government and rebels in eastern Ukraine have agreed to start pulling back heavy weapons from the frontline.
A Russian general involved in the process said work would start on Sunday but actual withdrawal is not expected to get under way until Tuesday.
The agreement between pro-Russian rebel leaders and Ukrainian forces is part of the terms of the Minsk ceasefire deal.
The process will not be completed until at least 8 March, five days later than the deadline set in Minsk.
Another key element of the Minsk deal moved forward on Saturday when the Ukrainian government and the rebels exchanged 191 prisoners.
The BBC's David Stern in Kiev sad the exchange was the first positive news since the Minsk agreement.
The 12 February ceasefire signed in the Belarusian capital, and brokered by France and Germany, had looked in danger of collapsing during the week when the rebels captured the strategically important rail hub of Debaltseve.
Nearly 5,700 people have died and 1.5 million have fled their homes since fighting erupted last April in the Donetsk and Luhansk regions, according to the UN.
In another development, an explosion at a march in the Ukrainian city of Kharkiv killed at least one person.
---
At the scene: Paul Adams, BBC News, Donetsk
At the end of a week that has seen government forces experience their most humiliating setback in months, the exchange of prisoners and the stated willingness of both sides to withdraw heavy weapons do suggest a glimmer of hope that the Minsk agreement could yet be implemented.
But such are the depths of suspicion and bad faith that no-one should assume immediate results. The OSCE says it needs much more information - inventories, current locations, withdrawal details - before it can make a judgement.
There are still flashpoints, including Donetsk airport and the area east of Mariupol, and a rebel military spokesman we spoke to last night made it clear that fighting might continue in some areas, while the withdrawal of heavy weapons happens elsewhere. This is not an obvious recipe for success.
---
'From today'
Rebel spokesman Eduard Basurin confirmed the withdrawal agreement had been signed on Saturday night.
"Starting from today there are two weeks to withdraw heavy weapons," he said. He was quoted by Russian media as saying the actual pullout would begin on Tuesday as Monday was a public holiday (Defender of the Fatherland Day).
The agreement was reportedly signed by Luhansk rebel leader Igor Plotnitsky and by Donetsk rebel leader Alexander Zakharchenko, the latter from his hospital bed, after he was wounded in the ankle during the recent fighting at Debaltseve.
Russia's Lt-Gen Alexander Lentsov, who sits on the Joint Centre for Control and Co-operation monitoring the ceasefire, said the withdrawal would begin on Sunday, but the Ukrainian signatory, Maj Gen Oleksandr Rozmaznin, told AFP news agency that it was too early to say when it would start.
Under the Minsk agreement, government forces are meant to withdraw heavy weapons from the current frontline while the rebels are to withdraw theirs from the line as it stood in September 2014.
Weapons are to be pulled back equal distances on both sides - up to 140km (87 miles) depending on the nature of the weapon.
The Organization for Security and Co-operation in Europe told BBC News it stood ready to monitor the withdrawal but needed the sides to provide details of weapon locations, withdrawal routes and eventual storage areas.
Ukrainian government and rebel forces have accused each other of multiple breaches of the truce since it came into force on 14 February.
There were reports of shelling near Donetsk airport on Sunday.
US Secretary of State John Kerry said Washington was considering "serious sanctions" against Russia following breaches of the truce, and that a decision would be made in the coming days.
Kremlin spokesman Dmitry Peskov said sanctions would not help solve Ukraine's crisis.
The Ukrainian government, Western leaders and Nato say there is clear evidence that Russia is helping the rebels in eastern Ukraine with heavy weapons and soldiers. Independent experts echo that accusation.
Moscow denies it, insisting that any Russians serving with the rebels are "volunteers".
Meanwhile, thousands of Ukrainians - as well as a number of European leaders - are taking part in a "dignity march" in the capital Kiev, remembering the victims of sniper fire during protests last February.
---
Ceasefire from 00:01 on 15 February (22:01 GMT 14 February)
Heavy weapons to be withdrawn within two weeks
All prisoners to be released; amnesty for fighters
Withdrawal of all foreign troops and weapons from Ukrainian territory, disarmament of all illegal groups
Lifting of government restrictions on rebel-held areas
Constitutional reform to enable decentralisation for rebel regions by the end of 2015
Ukraine to control border with Russia if conditions met by the end of 2015
---
Are you in Eastern Ukraine? Are you affected by the recent violence? You can share your experiences by emailing haveyoursay@bbc.co.uk. If you would be willing to speak further with a BBC journalist please include a contact telephone number.