Paris night drone mystery deepens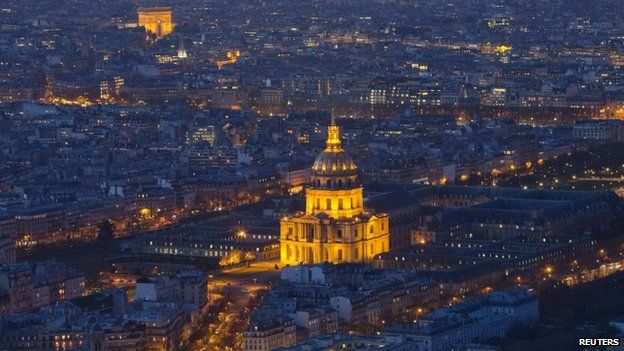 Drones have appeared over landmarks in central Paris for the second night running and police are no closer to knowing who is operating them.
There were five sightings between 23:00 on Tuesday and 02:00 (01:00 GMT) on Wednesday, French media report.
Up to three drones were seen near the Invalides military museum, Place de la Concorde and two of the old city gates.
Flying drones over Paris at night is illegal and daytime flights require authorisation from the city.
Five drones were seen the previous night in similar areas, including the Eiffel Tower and above the US embassy, close to Place de la Concorde.
However, some of the latest drone flights have been captured on film and will be analysed by a 10-strong team of investigators set up after the first incidents.
The new sightings were also on the fringes of central Paris, at the key transport gates of Porte de Clignancourt in the north and Porte de Saint-Cloud in the south-west.
"There's no need to worry, but we should be vigilant. It's a subject being taken very seriously," said government spokesman Stephane Le Foll. Part of the problem was that they were so easy to operate, he said, but everything was being done to catch those involved.
Small drones are inexpensive but their appearance in recent months over sensitive locations has worried French authorities.
It is against the law for any aircraft to fly lower than 6,000m (19,700ft) over central Paris. Flying any aircraft under that ceiling - including drones, police helicopters and air ambulances - requires permission from city authorities.
Flying a drone at night is banned completely.
Analysis: Hugh Schofield, Paris correspondent
The security threat from these drones is minimal. Bird's-eye images of Paris landmarks are available online in far higher quality than anything these devices could produce. And small, shop-bought drones are not strong enough to deliver a significant payload of explosives.
The more likely risk from these drones is that one might get out of control and crash on to a street, injuring a pedestrian or causing a car accident. That is the main reason why flying drones is banned over populated areas of France.
The police cannot afford to ignore these overflights however. They are probably the work of drone enthusiasts giving the authorities the run-around, but not certainly. It could also be an organised group - eco-warriors or jihadists, for example - testing out how the security forces respond to drones.
Security at key sites in Paris was tightened last month after the murders of 17 people by Islamist gunmen and French officials say that was the main reason the drones were spotted.
Last month a drone was seen over the Elysee Palace, home of President Francois Hollande.
In October, a 24-year-old Israeli tourist was fined €400 (£293; $453) and spent a night in jail after flying a drone over the city's historic Hotel Dieu hospital and a police station.
Drones were also spotted flying over at least 13 nuclear power plants in France between October 2014 and January 2015.
Those flights were thought to be the work of environmental activists but no group claimed responsibility.
The latest incidents involve a group that is not lacking in money, according to aviation security specialist Christophe Naudin.
Those behind them were seeking to "defy the power of the state", he told RTL radio, and trying to damage the French sense of security.
Drones present a problem for authorities in built-up areas, in that shooting them down could endanger the public. It is possible to jam GPS or radio signals guiding them.