Ukraine conflict: Halt to deaths stirs truce hopes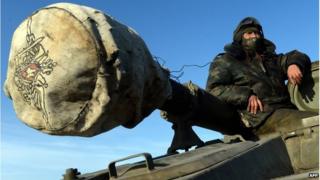 The Ukrainian army has said it suffered no casualties in 24 hours for the first time in weeks, raising hopes that a fragile ceasefire is starting to hold.
Pro-Russian rebels say they have pulled back heavy weapons from the front line in the east to comply with the truce.
But government forces dispute that and international observers want proof.
Although the ceasefire came into effect on 15 February, the rebels captured the strategically important town of Debaltseve days later.
The lull at the frontline came amid worsening economic chaos for Ukraine this week, with its currency plummeting 13%.
The central bank tried on Wednesday to halt the sharp decline of the hryvnia, which has dropped by at least 40% this year, by banning banks from buying foreign currency on behalf of their clients for the rest of the week.
'Smacks of genocide'
There were also signs of a renewed dispute over gas supplies.
After Ukrainian authorities reduced gas supplies to rebel-controlled areas in the east last week, the national energy company Naftogaz said less than half of its prepaid shipments had been piped from Russia.
Naftogaz said supplies to the east had been cut because of pipeline damage caused by fighting.
Russian President Vladimir Putin said on Wednesday that he did not know if the pipeline had been damaged, but that international observers had warned that four million people in the area were facing a "humanitarian catastrophe".
"Imagine these people finding themselves without gas supplies in the winter period," he said. "What do you call that? This already smacks of genocide."
Ukrainian supplies of Russian gas were cut off in a payment row last June, at the height of the conflict, and restored in December after an EU-brokered deal requiring Ukrainian pre-payment for gas. The European Commission has called for further talks.
Fighting began in eastern Ukraine last April, a month after Russia annexed the Crimea peninsula. Almost 5,800 people have died since then, the UN has estimated, although it believes the real figure could be considerably higher.
The Ukrainian government, Western leaders and Nato say there is clear evidence that Russia is helping the rebels with heavy weapons and soldiers.
Independent experts echo that accusation while Moscow denies it, insisting that any Russians serving with the rebels are "volunteers".
'Cannot effectively verify'
The success of the ceasefire now rests in part on both sides' willingness to stick to an agreement to remove artillery and tanks from contested areas. Under terms agreed in the Belarusian capital, Minsk, this should create a buffer zone of at least 50km (30 miles).
A spokesman for the Ukrainian military said on Wednesday that one soldier had been injured in 24 hours, describing it as the first day with no fatalities in "at least several weeks".
---
Rupert Wingfield-Hayes, BBC News, Mariupol
On the hills east of Mariupol, men drafted in to the Ukrainian army are digging fresh trenches. Very few are professional soldiers. Until a year ago they were farmers and factory workers. One I met told me was a school plumber.
Will they fight? It is hard to tell. The so-called "battalions" made up of younger and more committed volunteers may fight harder. But they too are badly equipped, poorly trained and there is intense rivalry between them.
And then there is the city's population. One recent opinion survey suggests at least at third are sympathetic to the rebels. On the eastern edge of Mariupol a neighbourhood was badly damaged last month by rebel rocket fire. 30 people died including children.
But residents there told me they did not believe the rebels could do such a thing. They blamed the government in Kiev, and the "oligarchs" they accuse of stealing Ukraine's economy.
---
There continued to be skirmishes, with the rebels reporting a tank battle at Shyrokyne, a town east of the southern port city of Mariupol captured by pro-Kiev volunteers shortly before the ceasefire was agreed.
The main rebel-held city of Donetsk, however, was described as quiet.
International monitors from the Organization for Security and Cooperation in Europe said late on Tuesday they "cannot effectively verify" the rebels' claim that heavy weapons have been withdrawn from the front line.
Russia was critical of the OSCE on Wednesday, saying it did "not show proper commitment" to monitoring weapons withdrawal.
The pullback will not now be completed until at least 8 March, five days later than the original deadline.
US Secretary of State John Kerry said on Wednesday that neither side had "come close to complying with their commitments" and that further sanctions against Russia were "teed up" should they prove necessary.
German Chancellor Angela Merkel said the truce "could be a first step, even if it is being implemented very slowly."
---
Are you in eastern Ukraine? Are you affected by events in the area? You can share your experiences by emailing haveyoursay@bbc.co.uk
Please leave a contact number if you are happy to speak to a BBC journalist.