EU Commission approves proposals for single energy market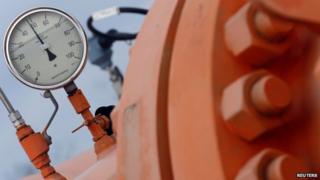 The EU Commission has approved proposals to create a single European energy market.
The Energy Union plan would give the Commission more influence in the negotiation of gas supply contracts.
It is partly designed to reduce Europe's dependence on Russian gas, at a time of tension over the conflict in eastern Ukraine.
The proposals still need to be approved by member states and the European Parliament.
The Commission says they will give customers more choice, bring down prices and cut down on the use of fossil fuels.
"This is about Europe acting together, for the long term," said Commission President Jean-Claude Juncker.
"I want the energy that underpins our economy to be resilient, reliable, secure and increasingly renewable and sustainable."
However critics accuse the Commission of trying to wrest control from member states, while green groups say it should be doing more to cut greenhouse gas emissions.
'More intelligently'
EU countries import 53% of their energy at a cost of around €400bn (£293bn; $454bn), according to EU figures.
Some member states take all their gas from Russia. In total, Russia supplies 23% of the EU's gas, making it Europe's biggest supplier.
But the deteriorating situation in Ukraine has led to fears of disruption to gas supplies. Russia cut off supplies to Ukraine last June in a dispute over unpaid bills, before agreeing to restore them as part of an EU-brokered deal.
"Current events show the stakes - as many Europeans fear they may not have the energy needed to heat their homes," Mr Juncker said.
Green MEPs and environmental groups criticised the plans.
"The Commission says the EU should move away from fossil fuels but it also wants to chase after new gas supplies and doesn't rule out coal," said Greenpeace EU energy policy adviser Tara Connolly in a statement.
"Europe needs a coherent, joined-up plan if it's going to play its part against climate change and be the world number one in renewables."
But Miguel Arias Canete, EU climate action and energy commissioner, said the plan was "not about using more gas".
"It is about using gas from different suppliers and using it more intelligently," he told a news conference on Wednesday.
The plan is also expected to run into opposition from a number of countries that will resist giving up national sovereignty.
The Baltic states, Slovakia and Hungary are among other EU states that rely heavily on Russian supplies.
Hungary broke ranks with EU allies earlier in February to invite Russian President Vladimir Putin to the country for talks.
The country relies on Russia for more than half of its gas supplies and wants to negotiate a flexible long-term deal to succeed the current agreement which expires later this year.
Europe has been weaning itself off dependence on Russian gas for the past decade.
It is also less reliant on pipelines running through Ukraine, with improved gas infrastructure now meaning supplies could go via alternative routes in the event of disruption.