Is Greek honeymoon over for Tsipras after EU bailout deal?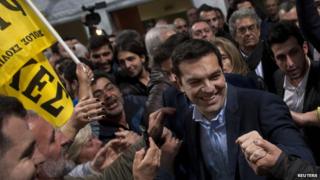 The cold January wind swept through Omonia Square in Athens for Alexis Tsipras's penultimate pre-election rally, eased only by the sense of excitement in the crowd.
Half of Greek debt would be written off, he told supporters, promising to "finish with the orders from abroad".
To rapturous applause, he insisted: "We will not govern with anybody who follows the policies of Mrs Merkel."
His fans were ecstatic.
Fast forward a month and the rhetoric is a distant memory. After three crisis meetings in Brussels, Greece was backed into a corner.
Its banks faced the prospect of emergency liquidity being turned off and capital controls implemented unless a deal was reached.
As much as €1bn (£732m, $1.5bn) a day was flowing out of Greek banks as the stand-off reached its climax.
Athens was forced to dance to the eurozone's tune.
So is it a capitulation or a pragmatic compromise? Well, a bit of both.
It gave up, watered down or put on hold:
Pledges to reverse privatisations
Anti-austerity promises, including an immediate increase in the minimum wage and rehiring all laid-off public sector workers
But it gained:
A lower budget surplus for this year, allowing it to spend a little on welfare programmes to help those without electricity, food or health insurance
Assurances that by clamping down on tax evasion, corruption and smuggling, it could avoid the necessity of further immediate VAT rises and pension cuts
Semantic victories which, outside Greece, may seem meaningless but here make a difference. The hated terms "bailout" or "memorandum of understanding" have been replaced by "loan" while the word "troika" of creditors has been replaced by "institutions".
So how has it gone down here? The short answer is that it is too early to tell.
Until Greeks fully grasp what was agreed upon and until measures are implemented, it will be difficult to gauge the general reaction.
But the most recent opinion poll, taken in mid-February before the deal was reached, gives an indication of the prime minister's political capital.
It indicated over 80% support for Alexis Tsipras, with his party way ahead of its rivals.
"Syriza's major asset is the complete hatred of Pasok (socialists) and New Democracy (centre-right)," said political commentator Pavlos Tsimas.
The two parties were in coalition until this election and have alternated in power for the past 40 years.
"They created and mishandled the crisis and were completely discredited," he added.
"Tsipras was elected despite not being completely trusted. But now that he and his party behave seriously, his support is growing."
That is the feeling I've got over the past three weeks here.
Most Syriza supporters fully expected a compromise, knew that a mouse was fighting an elephant and realised they would only get a fraction of what was promised.
'In love'
Even last year, a European diplomat told me that despite Alexis Tsipras's big pledges, "after one European Council meeting sitting next to Angela Merkel, he'll come back with a very different message".
"The Greeks are somehow in love with Tsipras and (Finance Minister Yanis) Varoufakis," said Sophia Tsiliyanni from Greek pollsters Marc.
"It is like a teenage crush. The vast majority of people support the government in these negotiations.
"But there is a small, critical mass on the left of the party that really thought they could overthrow the 'troika' and change everything and they could cause a problem."
There are signs of that happening. The new energy minister, Panagiotis Lafazanis, on the far left of the party, appeared to defy Syriza's decision to press on with some privatisations, announcing instead that the sale of two state electricity companies would be halted.
Other radical left figures have spoken out against the party line.
Veteran MEP Manolis Glezos apologised to Greeks that his party had reneged on policies.
Another party MEP, Sofia Sakorafa, voiced her dissatisfaction on Twitter.
"The people gave us a mandate to cancel the memorandum (the Greek term for the bailout). We have no political legitimacy to do the opposite."
Deputy parliamentary speaker Alexis Mitropoulos warned that if the agreement was implemented, "the people will not stand it".
But for now the signs are that the rebellion can be kept in check and even if Syriza loses the support of its hard-left factions, it will gain backing from centrists, who believe the party has taken a pragmatic path to avoid eurozone exit.
"For the first time Greeks see a government actually negotiating on their behalf, rather than simply accepting Europe's demands straight-off," said Anastasia Giamali, a journalist at Syriza-affiliated newspaper Avgi.
Saving face
But what of those who thought they had the most to gain from Syriza, like the 300,000 whose electricity had been cut off because of unpaid bills but expected immediate reconnection as the party had promised?
"The deal with Brussels is ugly," said Asimina Antonakopoulou, who supports her husband and son with a pension of €400.
"The measures the government announced don't benefit us. I want to believe that Tsipras will fight for us. But if he doesn't deliver, he will pay for it in the next election and the people will rise up."
Alexis Tsipras is attempting a difficult balancing act - satisfying Greece's creditors while saving face among his party.
For now, on the whole, he's succeeding.
But as the deal with Brussels is fleshed out, as the expectations of some for a revolution are dashed and as Greece is forced towards a third bailout deal of some sort in the summer, the prime minister could stumble.
And the reality that hits could be as cold as that pre-election wind.