Czech shooting: Hundreds mourn Uhersky Brod victims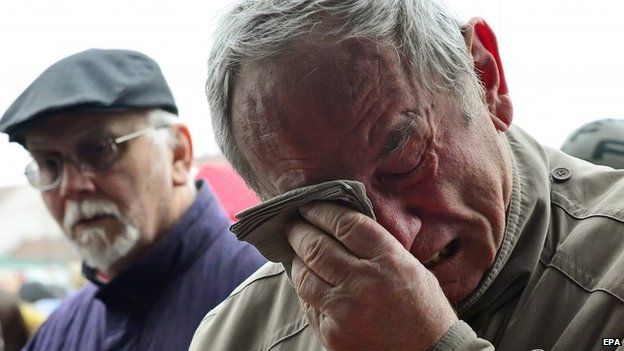 Hundreds of people have gathered in a small town in the eastern Czech Republic to mourn the victims of the country's worst shooting.
Residents lit candles outside the Druzba restaurant in Uhersky Brod, where a gunman killed eight people on Tuesday before shooting himself.
Witnesses say the killer, 63 and a local man, opened fire indiscriminately at guests.
A 37-year-old woman remains in critical condition at a nearby hospital.
Around 20 people are believed to have been in the restaurant at the time of the shooting.
The mayor of Uhersky Brod, Patrik Kuncar, laid a wreath near the scene of the shooting and addressed the crowd.
"We are really grateful for your condolences and your recognition of the pain of the victims who died here yesterday," he said.
"This was perhaps the darkest day in the history of our town that must not be repeated."
Alena Kubanova, who knew one of the victims, told the Associated Press news agency: "Last Thursday we ate with him here and I wouldn't dare to think that would be for the last time, we saw him."
The gunman owned two licensed weapons and did not have a criminal record.
Police said a motive for the attack had yet to be determined but Czech Interior Minister Milan Chovanec ruled out terrorism.
Prime Minister Bohuslav Sobotka said in a statement he was "shocked by the tragic incident".
"I would like to express my deepest sorrow and condolences to the families and relatives of the victims," he added.
Uhersky Brod is a town of 17,000 in the Moravia region, near the border with Slovakia.
Such shootings are rare in the country, says the BBC's Rob Cameron in Prague, but with hunting a popular hobby many people in rural areas own weapons.