Swedish balloons mistaken for Islamic State propaganda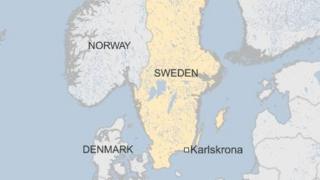 Police in Sweden have asked for 21st birthday balloons to be taken down after they were mistaken for Islamic State propaganda.
Sarah Ericsson had "2" and "1" balloons in her window, which in reverse looked similar to "IS".
IS is an acronym for Islamic State and the passerby thought that they had been put up by supporters of the group.
Police realised their mistake but asked that the balloons be removed to prevent any further misunderstandings.
Ms Ericsson's boyfriend, Fabian Akesson, told Swedish media that three police officers visited her house in Karlskrona and showed him pictures of how the balloons looked from the outside.
Ms Ericsson, who was out, later told The Local website: "Extremism should always be taken seriously, and we did take the balloons down immediately."
Mr Akesson said he had laughed about it with the police once they became aware of what had happened.