Russian state TV respectful over Nemtsov killing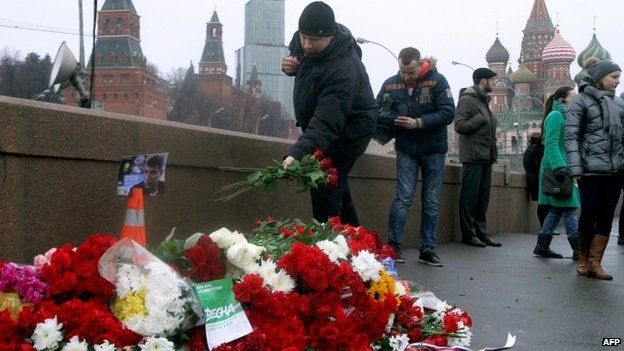 The murder of prominent opposition politician Boris Nemtsov dominated Russian TV news bulletins on Saturday morning, the day after he was killed in central Moscow.
State-run channels devoted most of their bulletins to the story. Reports were respectful in tone, with comment from officials and MPs, and commemorative montages set to solemn music.
The privately-owned pro-Kremlin rolling news channel LifeNews gave almost blanket coverage to the killing, but was tabloid in tone, concentrating on Mr Nemtsov's private life, such as his relationship with the young woman who was at his side when he died.
Reports tended to avoid detailing his criticism of President Vladimir Putin's rule, and gave little or no air time to critical comments from public figures.
Only privately-owned business news channel RBK ran rolling news coverage of the story.
In contrast, Twitter is alive with a range of reaction - the hashtag #Nemtsov and its equivalent in Cyrillic shot into Russia's top trends soon after his death around midnight local time, and remained there throughout Saturday morning.
Many liberal-minded users expressed shock and grief at his death.
Mikhail Khodorkovsky (@mich261213), the former head of the Yukos oil company and vocal Putin critic, tweeted: "The death of Boris is devastating for me and my family. We all loved him. A daredevil, but a very good guy."
Some suggest President Putin or the atmosphere his policies have created in Russian society are to blame.
TV presenter and opposition figure @xenia_sobchak wrote: "Even if there was no direct order to get rid of him, the hatred in society could have provoked the bastards."
Prominent blogger @adagamov dubbed Mr Nemtsov the "first victim of the Anti-Maidan" Kremlin-backed movement formed to counter opposition protests.
Opposition figure @max_katz was blunt: "Putin is to blame. If he ordered it, then he is to blame as the one who ordered it. Even if he didn't, then he is to blame as the one who whipped up hatred, hysteria and animosity among the people."
Pro-Kremlin users tend to see the murder as an act of provocation to destabilise Russia, or suggest he was killed not for political but for personal reasons.
The idea that Mr Nemtsov was "sacrificed" in order to galvanise mass protests against President Putin is a common theme.
"Every anti-government protest begins with a sacrifice. One sacrificial victim should lead to thousands of victims," tweeted state TV presenter Konstantin Syomin (@KSyomin).
"All this looks like a holy sacrifice near the Kremlin before the opposition march," agrees singer @OlegGazmanov, who compares Mr Nemtsov's death with the disputed downing of Malaysia Airlines flight MH17 in Ukraine as "another go at Putin".
Ashot Gabrelyanov (@gabrelyanov), the former director-general of LifeNews TV, links Mr Nemtsov's killing to fascism, which pro-Kremlin activists says is rampant in Ukraine.
"It's not that we have returned to Russia in the 1990s," he tweeted, referring to the political turmoil and contract killings of those days, "but rather that the world has not come back from the 1940s".
Margarita Simonyan (@M_Simonyan), the head of Russian state international broadcaster RT, calls down a plague on both houses, tweeting "Stop making PR from bloodshed! What swine you are, on both sides. I'm speechless. You're no more than savages."
BBC Monitoring reports and analyses news from TV, radio, web and print media around the world. You can follow BBC Monitoring on Twitter and Facebook.