Greece bailout: EU 'mediating' Greek row with Spain and Portugal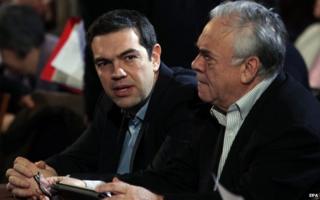 The European Commission says it is trying to maintain EU unity after Greece accused Spain and Portugal of conspiring against it.
Spain and Portugal complained after the Greek prime minister accused them of trying to derail his government because they feared a rise of the left.
Germany said Alexis Tsipras's accusations were "not the done thing".
Greece negotiated a four-month extension to its bailout last month after tense talks with creditors.
Eurozone leaders want to extend help on Greece's €240bn (£176bn; $272bn) bailout until the end of June, but the plans need to be ratified by eurozone members.
Germany's parliament voted on Friday in favour of the extension, based on a compromise stipulating that Greece will implement reforms and savings.
'Foul play'
But the European Commission said on Monday it was acting as a "mediator" after receiving complaints from the Spanish and Portuguese authorities over Mr Tsipras's comments.
The Greek Prime Minister had likened pressure from Spain and Portugal during the negotiations over a bailout extension to blackmail.
"We are speaking to all actors involved in order to ensure there is unity among all EU states and especially all EU states of the eurozone," Commission spokeswoman Mina Andreeva said.
Meanwhile, a spokesman for German Finance Minister Wolfgang Schaeuble said Mr Tsipras had violated the ground rules of relations between the 19 eurozone countries.
"I can only say that according to European standards that was very unusual foul play," spokesman Martin Jaeger told reporters on Monday.
"We don't do that in the Eurogroup. It is not the done thing."
'Axis of powers'
The row started when the Greek PM told his hard-left Syriza party that Spain and Portugal had attempted to sabotage the bailout negotiations for political reasons.
"We found opposing us an axis of powers ... led by the governments of Spain and Portugal which for obvious political reasons attempted to lead the entire negotiations to the brink," he said on Saturday.
Correspondents say Spain and Portugal are facing an upsurge in support for anti-austerity parties buoyed by the rise of Syriza, which won the Greek elections on 25 January.
Spanish Prime Minister Mariano Rajoy hit back at Mr Tsipras on Sunday, saying his country was not responsible for the "frustration generated by the radical Greek left that promised the Greeks something it couldn't deliver on".
Meanwhile Portugal's Prime Minister, Pedro Passos Coelho, said on Monday his government was "a bit perplexed" by Mr Tsipras's statements, adding that it was "natural" to demand that Greece should demonstrate its willingness to honour existing agreements.
Analysts described Friday's bailout agreement as a climbdown for the Greek government, which rose to power on promises to have half of the country's debt rewritten off.
Prime Minister Alexis Tsipras has defended it, but some on the hard left have accused Syriza of going back on pre-election pledges.
Even if the bailout extension goes through Greece still faces the huge task of trying to service its debt obligations.
It will need to flesh out its reform programme in detail by April and prove that reforms are bedding down before receiving a final bailout disbursement of €7.2bn.
But in the meantime Greece has to repay several billion euros in maturing debts, including about €2bn to the IMF in March, and €6.7bn in European Central Bank bonds maturing in July and August.
---
Greek proposals
Combat tax evasion
Tackle corruption
Commit not to roll back already introduced privatisations, but review privatisations not yet implemented
Introduce collective bargaining, stopping short of raising the minimum wage immediately
Tackle Greece's "humanitarian crisis" with housing guarantees and free medical care for the uninsured unemployed, with no overall public spending increase
Reform public sector wages to avoid further wage cuts, without increasing overall wage bill
Achieve pensions savings by consolidating funds and eliminating incentives for early retirement - not cutting payments
Reduce the number of ministries from 16 to 10, cutting special advisers and fringe benefits for officials
Pressure still on despite deal
---