German politician Edathy admits child porn - trial ends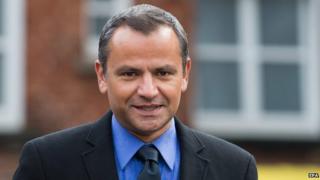 A German court has ended the trial of a Social Democrat (SPD) politician, Sebastian Edathy, after he agreed to pay €5,000 (£3,647) and admitted guilt on child pornography charges.
It was only the second day in court for Mr Edathy, who resigned last year.
Pornographic videos and pictures of children under the age of 14 were found on his government computer.
His payment will go to a child protection association and he will have no criminal record.
"Mr Edathy regrets what happened," his lawyer Christian Noll said on Monday.
The case ignited a debate in Germany about child pornography laws, which have now been tightened, the BBC's Jenny Hill reports from Berlin.
Scandal over 'leak'
An inquiry is continuing into claims that Mr Edathy, 45, a former rising star in the SPD, was warned about the police investigation by fellow politicians.
He went on trial a week ago at a district court in the Lower Saxony town of Verden, south-east of Bremen.
Last year the case led to the resignation of Agriculture Minister Hans-Peter Friedrich, over claims that he had leaked information about the investigation to the SPD.
Before he stood down citing health reasons, Mr Edathy, 45, had become an important figure in his party and the Bundestag, chairing a parliamentary inquiry into the authorities' handling of 10 neo-Nazi murders between 2000 and 2007.
The case prompted Germany to change its pornography laws, by making it a crime to take nude photographs of children in order to sell or exchange them. The statute of limitations on sex crimes was also extended, Deutsche Welle news website reports.