European Union showing signs of strain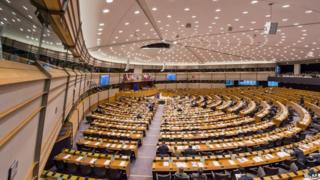 In 1998 Austria held the rotating presidency of the European Union for the first time since becoming a member of the club and I was a fresh-faced reporter for Austrian radio's English-language service.
"Our aim is to bring Europe closer to its people," announced Wolfgang Schuessel, then Foreign Minister of Austria.
And he meant business, using that press conference to wave aloft a pair of limited edition running shoes.
They had been commissioned in the national colours to demonstrate the government's intent to get out and about, addressing all issues pertinent to European voters.
The shoes didn't get very muddy in the end, but they sprang to mind as I sat down to write my first blog post as Europe editor.
Over the years, I've heard the same promise made over and over again in EU circles.
But far from getting closer to people and appearing ever more relevant to them, the European project is showing signs of strain.
'Personal space'
Back in 1998 the EU had 15 member states. Now there are 28.
The European Parliament is one of the biggest in the world. It represents around half a billion people. But a record number of them chose to vote for populist, Eurosceptic politicians in parliamentary elections last year.
Many in Europe don't want the EU to get any closer.
They feel EU bureaucracy already invades their personal - and national sovereign - space too much.
Those in favour of the EU argue just as vociferously that in our globalised world, acting as a bloc in terms of trade, commerce, security and more is imperative.
The debate is a heated one and nowhere more so than in the UK which, depending on general election results this May, looks likely to organise an in/out referendum on EU membership.
Nobody can argue, Europe is at a pivotal moment in its history.
There are a number of front-page issues blazing concurrently across the continent.
Political and economic problems are present in terms of the EU and the eurozone.
But there is also a humanitarian crisis and an immigration debate, sparked by record numbers of people desperate enough to flee war and oppression at home, often in the Middle East, to attempt the perilous journey to European shores.
Europe's southern seas, traditionally associated with summer fun in the sun, are increasingly becoming horrific watery graves.
Driving division
The continent faces a stark security threat too, the greatest in more than a decade.
As many as 5,000 Europeans have joined fighting in Syria, posing a risk to their homelands. The Charlie Hebdo attacks in Paris have left people across Europe wondering whether their city might be next.
And then, there is Europe's conflict with a bellicose Russia.
Vladimir Putin is increasingly protecting his interests using hard and soft power to meddle, confuse and drive divisions between European nations and Nato members.
This week I head to the Baltic States, which bearing in mind their geographic proximity to Russia, are particularly nervous about Mr Putin's intentions.
Latvia, Lithuania and Estonia - unlike Ukraine - are EU and Nato members. But like Ukraine they are home to a Russian-speaking minority.
Across the continent the views and concerns of the people, not just policymakers and their running shoes (though Estonia's young prime minister, fresh from an election victory on Sunday, says he's an avid jogger) are key.