Republic of Ireland passes cigarette plain package law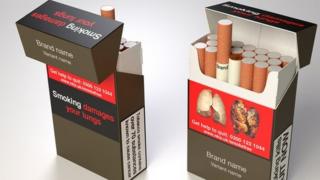 The Republic of Ireland has become the first country in Europe to pass legislation requiring cigarettes to be sold in plain packets.
Tobacco products will be in a standard dark wrapper emblazoned with large health warnings and images of disease.
Ireland is the second country in the world after Australia to pass plain packaging laws.
It comes despite threatened legal action by a number of tobacco firms, who claim the measure is unjustified.
This was rejected by a leading politician as an attempt to intimidate the government.
James Reilly, minister for children and youth affairs, said the government was prepared for it to end up in the courts.
He said the law would help prevent children from taking up smoking.
"Standardised packaging will strip away the illusions created by shiny, colourful cigarette packets, and replace them with shocking images showing the real consequences of smoking," he said.
Brand names will be small and use similar fonts on all packets.
However, the Irish government could face a legal challenge over claims that the measure infringes trademarks and the free movement of goods across the European Union.
President Michael D Higgins will formally sign the legislation into law at a date yet to be confirmed.
Similar measures are being considered in the UK.