Rue des Rosiers: France seeks three men for 1982 attack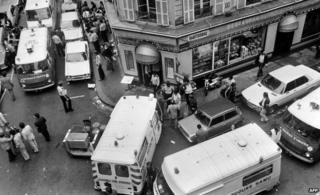 A judge in France has issued arrest warrants for three people suspected of being behind a deadly attack on a Jewish restaurant in Paris in 1982.
The men, believed to be former members of a radical Palestinian group, have been identified 33 years after the Rue des Rosiers assault.
They now live in Norway, Jordan and the occupied West Bank, French media say.
Six people died and 22 were injured when a grenade was thrown and attackers opened fire inside the busy restaurant.
Two of the wanted suspects are believed to have been the gunmen who stormed the Jo-Goldenberg restaurant and delicatessen on 9 August 1982, according to Paris Match magazine (in French).
They are said to be a 56-year-old living in Norway, where he has citizenship, and a 60-year-old who now lives in Ramallah.
The third suspect, a 64-year-old living in Jordan, is suspected of having a commanding role in the attack, Paris Match said. Other reports gave different ages for the men.
The three men are said to have belonged to a group led by Palestinian militant Abu Nidal, which was active in the 1970-80s.
Anti-terrorist judge Marc Trevidic issued the arrest warrants after leading a long-standing investigation.
Paris Match said the inquiry was based on anonymous interviews with former members of the Abu Nidal group.
Alain Jakubowicz, head of Licra, an international association against racism and anti-Semitism, told French radio station RTL the warrants were a "message to the terrorists... that they cannot hide, wherever they are".
The development comes amid strong concern about increased attacks against France Jewish's community.
Seventeen people were killed during the Charlie Hebdo shootings and a kosher supermarket siege in Paris in January.
French President Francois Hollande laid out proposals to strengthen laws on anti-Semitic, racist and homophobic hate crimes last month.
The Abu Nidal group is blamed for a series of attacks across the world, which left at least 900 people dead.
Abu Nidal - whose real name was Sabri Banna - died in Iraq in 2002, reportedly committing suicide.
For decades he was regarded as a terrorist and a wanted man - inside the mainstream Palestinian community as much as in the world at large.