French nepotism row over Pompidou Centre job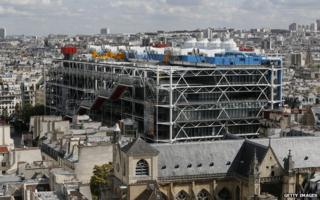 Paris is all a-twitter over the nomination of a top government boffin with no experience in museum administration to run the world-renowned Pompidou modern arts centre.
Sceptics say that Serge Lasvignes, who served for 10 years as secretary-general at the Elysee Palace, was named by President Francois Hollande as part of a complex shuffling of senior posts and with little regard to the demands of his new job.
Several well-qualified figures who put themselves forward for the post were overlooked.
Former Culture Minister Aurelie Filippetti, who left office last year, said she regretted the way "we seem to have gone back to practices that we once condemned".
She called for proper procedures to avoid rows that ended up damaging both the institution and the nominee.
"The culture ministry is constantly being accused of nepotism, of promoting friends. It's not true, but we need total transparency," she said.
According to the rumour mill, President Hollande and Prime Minister Manuel Valls needed to free up the post of government secretary-general in order to accommodate another high-ranking civil servant who had been at the Constitutional Council.
And he has to move in order to find a place for the chef de cabinet of former Prime Minister Jean-Marc Ayrault.
Everything was unblocked by giving Mr Lasvignes the surprise post at the Pompidou Centre, which is about to be vacated after eight years by Alain Seban.
Sacrilege
"Is this appointment of a political figure at the head of one of France's most prestigious museums really part of a thought-out strategy?" asked the website Connaissance des arts.
"Or - given the apparent lack of importance that President Hollande attaches to culture - is it really about moving one civil servant in order to put another in his place?"
AFP news agency quoted an anonymous senior figure from the arts as saying, "Coming from the left, this is sacrilege!"
'Pompidou generation'
By all accounts, Serge Lasvignes, 61, is an ultra-competent and gracious operator - in the classic style of the elite college, the Ecole Nationale d'Administration, of which he is naturally a product.
Though no artist, he is an avid book lover with a predilection for the classics. He started his career as a teacher of French literature.
Rebutting rumours that his appointment was purely political, he told the magazine Le Quotiden de l'art that "I belong to the Pompidou generation".
"I saw the building being created. The whole project was a cultural and existential shock which has always fascinated me."
And he has a defender in another former culture minister, Frederic Mitterrand, who said Lasvignes' lack of experience in the arts was no handicap.
"Sometimes the great arts institutions need to be managed by people who are not part of the inner circle," Mr Mitterrand said.
France's top cultural jobs - at the Pompidou, the Louvre and Versailles - are regularly filled by nominees of the president. And, artistic snobbery aside, there is no particular reason to suppose Serge Lasvignes will not make a good job of it.
The Pompidou Centre comprises not just the famous museum of modern arts (with around six million visitors a year) but also a large arts library and a contemporary music centre.
Each of the three sections has its own artistic director, and Mr Lasvignes seems set for an overarching administrative role.
One of his first tasks later this month will be to attend the opening of a five-year exhibition of Pompidou Centre artworks in the Spanish city of Malaga.