US spy case: Snowden seeks Switzerland asylum move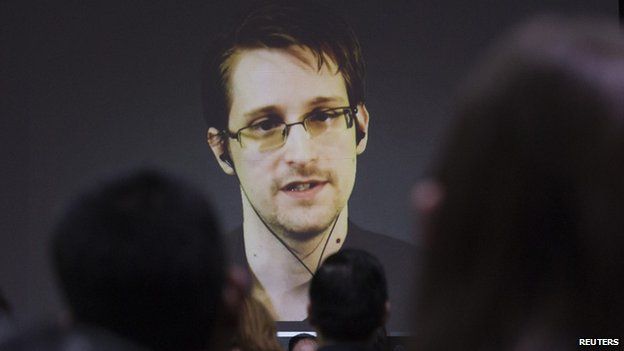 The fugitive US intelligence contractor Edward Snowden says he would love to get asylum in Switzerland.
He was speaking via video link to a Geneva audience, from Moscow where he is sheltering from US prosecutors.
"I would love to return to Switzerland, some of my favourite memories are from Geneva," he said. Previously he worked in Geneva undercover for the CIA.
Mr Snowden, wanted for leaking US secrets, said US authorities had given him no assurances of a fair trial.
"The only thing they've said at this point was that they would not execute me," he said. "That's not quite the same thing as agreeing to a fair and open trial."
He was speaking to the audience after a viewing of Citizenfour, an Oscar-winning documentary about his case. In 2013 his exposure of massive US surveillance - including routine tapping of internet traffic - grabbed the headlines worldwide.
It was an unprecedented leak by an insider in the top-secret US National Security Agency (NSA).
"I do think Switzerland would be a sort of great political option because it has a history of neutrality," he told the Geneva audience.
He said he had requested asylum in 21 countries, most in Central and Eastern Europe, but none had granted his wish. He blamed US "political interference".