Midlands Prison, Portlaoise: Two prison officers injured in attacks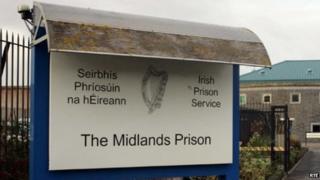 Two prison officers have been injured in separate attacks by inmates at the same prison in the Republic of Ireland.
Both attacks happened at the Midlands Prison in County Laois on Sunday, in a wing that houses sex offenders.
One officer sustained a knife wound to his back as he tried to protect a prisoner who was being attacked.
An assistant chief prison officer was later kicked a number of times by another inmate when senior officers began to investigate the first attack.
Both injured officers were taken to hospital for treatment. The assistant chief prison officer is thought to have sustained a broken ankle in the attack.
Midlands Prison is one of two jails within the Portlaoise Prison campus.
It is a closed, medium-security prison for men that can house almost 300 inmates.
The Irish state broadcaster, RTÉ, said police and the Irish Prison Service have begun investigations into the attacks.