France objects to Waterloo euro coin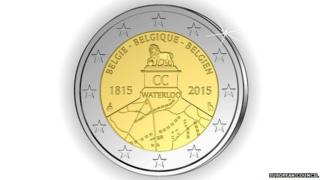 A new design for a €2 coin featuring a map of a European battle is proving divisive in Brussels.
The design shows an image of the Lion Hill memorial at Waterloo, near Brussels. It was submitted by Belgium to commemorate the battle fought there on 18 June 1815.
But one member of the European Union thinks it is in rather poor taste.
In a letter of objection, the French government argues the design contains a "negative" symbol for some Europeans.
The letter contends that the Battle of Waterloo, in which Napoleon was defeated, is an event with particular resonance in the European collective memory and goes beyond being just an instance of military conflict.
The coins could prompt an unfavourable reaction in France, the letter warns, at just the time that eurozone governments are trying to strengthen unity and co-operation.
'Fuss in Paris'
Not everyone agrees that Waterloo is laden with so much meaning in the 21st Century, reports the BBC's Chris Morris in Brussels.
One diplomat expressed surprise that "two centuries later a proposal for some loose change with an image of a hill on it can cause such a fuss in Paris," our correspondent adds.
Belgium must now decide whether it is willing to withdraw or amend the design.
If it chooses to stick with it as it is, there will be a majority vote among members of the eurozone on whether the new coin should be minted.