Russia Putin: Kremlin denies president health rumours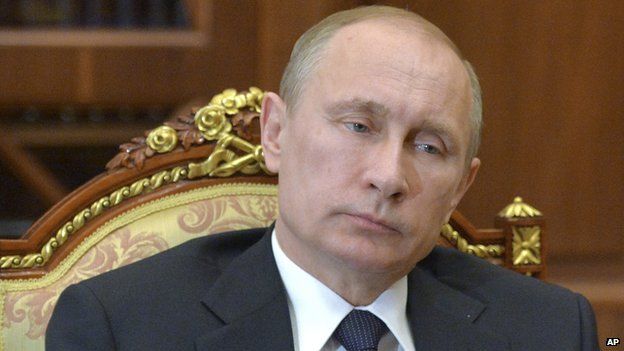 A spokesman for President Vladimir Putin has denied rumours that the president is unwell.
The rumours started after a trip to Kazakhstan, scheduled for Thursday and Friday, was postponed.
President Putin's last public appearance was on 5 March when he met Italian Prime Minister Matteo Renzi.
Kremlin spokesman Dmitry Peskov said those making the claims had themselves caught "spring fever".
"When the sun comes up in the spring, and as soon as spring is in the air, then the fever begins," said Mr Peskov. "We are calm on this fever, and respond to the questions with patience."
Reuters quoted a Kazakh government source on Wednesday as saying: "It looks like [Mr Putin] has fallen ill."
Insisting the president was "fine", Mr Peskov said Mr Putin had meetings "all the time" but not all of them were public.
Besides the trip to Kazakhstan, Mr Putin was due to sign a treaty of integration between Russia and South Ossetia - a breakaway state formerly part of Georgia - but the ceremony did not take place.
There may be technical reasons for that - it was reported that the document had not been fully agreed.
Mr Putin had also been slated to attend a federal security meeting on Thursday but a government source told Russia's Ria news agency it was unlikely to go ahead.
RBC Daily, a Moscow business newspaper, reported that the video of Mr Putin posted to the Kremlin's website on 8 March, meeting a delegation for International Women's Day, had been pre-recorded on 5 March. One participant at the meeting told the paper the president had looked tired.
Since then, more videos of Mr Putin have appeared on the site. Footage of a meeting with the governor of Russia's republic of Karelia was published on Wednesday.
The videos have been the subject of scrutiny, with pundits looking closely at Mr Putin's clothes and the digits of a calendar in the background for clues about when the filming took place.