Spain dismantles 'IS-linked jihadist cell'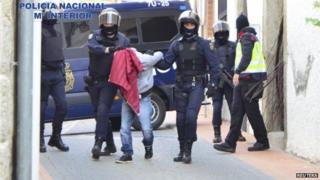 Spanish police say they have arrested eight suspected members of a jihadist cell in dawn raids across the country.
Six men and two women are believed to have been recruiting volunteers to fight for Islamic State in Syria and Iraq, and encouraging attacks in Spain.
The arrests took place in Barcelona and Girona in the north-east, and Avila and Ciudad Real in central Spain.
More than 20 suspected Islamic militants have been detained in the country so far this year.
'Propaganda machine'
In a statement (in Spanish), the interior ministry said the alleged cell "represented a serious and definite threat to national security".
It said the suspects had been in contact with an IS "operative", who was co-ordinating their activities from Syria and Iraq.
All of those arrested were Spanish nationals, and five of them were of Moroccan origin.
The group was a "propaganda machine" for IS, targeting immigrants and Spaniards of Moroccan origin, the statement said.
On Tuesday, police arrested two suspects described as "physically and mentally prepared for jihad" in Spain and neighbouring countries.
No details have been given about the suspects' identities.
Spanish authorities believe about 100 people have travelled from Spain to Iraq and Syria to join the ranks of Islamist groups there.
There are concerns that they may return Spain to launch attacks.