Crimea fears amid joy one year after Russia's annexation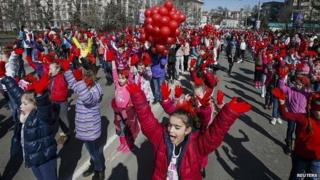 As Crimea gears up for celebrations marking its annexation from Ukraine, supporters of the "Russian Spring" on the peninsula strongly outnumber its opponents.
But economic strain caused by Western sanctions, growing pressure on dissent and the departure of skilled professionals suggest not everybody is happy with the past year's events in the peninsula. The UN estimates some 20,000 have chosen to leave.
For many, voting in the disputed secession referendum on 16 March last year was an experience of a lifetime.
A reported 96% of Crimean voters backed joining Russia, although the Russian Human Rights Council put the true figure at far lower than that.
"We made history with our own hands. For the first time, we, Crimeans, could express our own opinion and say who we want to be with," says Olga Volodchenko, a university professor who describes herself as an eighth-generation Crimean Russian.
Anastasiya from Simferopol agrees, but mostly for economic reasons. "Russia is so much more powerful economically than Ukraine, it's not begging anyone for money," she says, pleased with a substantial increase in her salary as an engineer.
But discontent with the turn of events is palpable among those who have chosen to leave the peninsula since the vote.
"The flow has dropped, but people are still leaving because of the deteriorating economic situation, potential conscription into the Russian army and persecution of activists," says Alim Aliev, a co-founder of the CrimeaSOS campaign.
Pain and fear
For Crimean Tatars, a pro-Ukrainian Muslim minority, annexation came as a particularly painful experience.
For many, joining Russia brought back memories of Soviet repression, which culminated in their deportation from Crimea amid accusations of collaboration with the Nazis in 1944.
Tens of thousands died while being shipped en masse to Central Asia. Crimean Tatars were only allowed to return home in the 1980s.
Their long-time leader Mustafa Dzhemilev told the BBC that the annexation marked a complete end to "democratic freedoms" in Crimea, highlighting "tough censorship" and a "humiliating coercion into adopting Russian citizenship".
"There have been dozens of searches of Crimean Tatars' homes, activists are being kidnapped, businesses are being destroyed," he says.
Mr Dzhemilev was given a five-year ban on entering Crimea last year and is now based in Kiev.
While the leadership of the Majlis, a self-styled Crimean Tatar government, strongly encourages Tatars not to leave the peninsula, many have chosen to flee due to a series of disappearances and deaths under suspicious circumstances, he says.
In a report published in September, the Council of Europe's commissioner for human rights speaks of a number of suspicious deaths and disappearances that occurred in Crimea following annexation.
The commissioner notes "with concern" that at least some of these cases involved activists who have "openly expressed critical views of the events unfolding in the region after February 2014".
Crimea's self-proclaimed Prime Minister Sergei Aksyonov, however, insisted that there were no "mass disappearances" of Crimean Tatars, as reported by activists, and promised to investigate all such issues.
Pro-Ukrainian activists, who resent being torn away from their home country, also appear to be targeted. Activist Leonid Kuzmin, who recently organised a rally in Simferopol commemorating Ukrainian poet Taras Shevchenko, says he has been fired from his job as a school teacher.
"They told me that I'd disgraced the moral image of a teacher. Also, apparently, we cannot use flags of another state - meaning Ukraine - at rallies," he says.
Exodus continues
Journalism student Yana Goryunova, who is from Crimea but now lives in Kiev, has not been home since the annexation.
"Speaking pragmatically, I cannot understand how a decent journalist can work in Crimea," she says, referring to deteriorating media freedom.
"Emotionally, I can't imagine living in any country other than Ukraine, let alone Russia."
Some are leaving because of the everyday inconveniences caused by Western sanctions.
Crimeans cannot use their Visa and MasterCards, smartphone users have trouble accessing App Store and Google Play, and suspended international flights and blocked rail links make life difficult for travellers and those working in Crimea's vital tourism sector.
This proves especially frustrating for Crimea's young and educated middle class.
A once flourishing IT community has significantly shrunk due to strained co-operation with foreign partners and customers.
"The Western-oriented IT crowd is simply leaving - for Ukraine, Europe or Russia - never to come back," IT engineer Anton Luchnikov laments.
BBC Monitoring reports and analyses news from TV, radio, web and print media around the world. You can follow BBC Monitoring on Twitter and Facebook.