Sgt Liam Flynn: Irish-born marine killed in US helicopter crash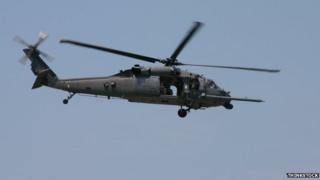 A US marine originally from the Republic of Ireland has died in an Army helicopter crash off the coast of Florida.
Staff Sgt Liam Flynn, who was 34, was from Clane in County Kildare.
He moved to the US 12 years ago and joined the marines where he completed tours of Iraq and Afghanistan.
Eleven servicemen were killed when the helicopter they were using for a training exercise crashed in waters off the Florida Panhandle on Tuesday night.
There was heavy fog in the area at the time of the crash, but it was unclear if that played a role in the accident.
Sgt Flynn was married and had one daughter.
Clane parish preist Fr Paul O'Boyle said a memorial mass would be held for Sgt Flynn on Sunday at 11:30 GMT.
The US air force is investigating the cause of the crash.