Speculation rife as world waits for Putin to reappear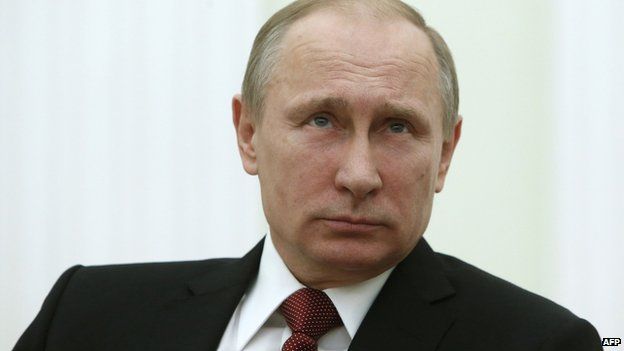 Can there ever have been such importance attached to a planned meeting between the Russian and Kyrgyz presidents, in which they will discuss trade, investment, cultural and humanitarian co-operation?
Such is the strange atmosphere in Moscow nowadays that Monday's meeting in St Petersburg - assuming it takes place - will be scrutinised like no other.
And all this because there's been no verifiable sighting of the omnipotent and normally omnipresent Vladimir Putin since 5 March.
Such a long, unexplained absence from public view has fuelled rumours among the chattering classes here and across the internet, that something is wrong - that the president might be sick or even dead or he could be the victim of a palace coup.
With persistent denials from the Kremlin doing little to dampen the speculation, Monday's meeting could be a key moment.
If he makes an appearance with his Kyrgyz counterpart, Almazbek Atambayev, in front of plenty of journalists and television cameras, it would at least quash the rumours that he is either dead or seriously ill, especially if the broadcast is live.
But if not the rumour mill is likely to crank up into an even higher gear.
The suspicions that there is something untoward happening behind the Kremlin's thick, red walls have been heightened by the way government officials themselves have responded.
Photographs which they said proved the president had been holding meetings and working as normal over the past week, were soon discredited when local media reported they had been taken days earlier than stated.
There has also been an intriguing posting on photo-sharing website Instagram by one of Mr Putin's close allies, Chechen leader Ramzan Kadyrov.
In the posting, Mr Kadyrov renews his pledge of loyalty to the president and adds: "I am devoted to him as a person. And this regardless of whether he is in his position or not!"
This feeds into another theory which some speculate could be the reason for Mr Putin's strange absence: that the unity of the ruling elite surrounding the president has cracked and a powerful faction has now turned against him.
The theory flows from the murder last month of the leading opposition figure Boris Nemtsov, who was shot dead next to the Kremlin.
The key suspects who are now under arrest are Chechen, and one of them, Zaur Dadayev, has been praised by Mr Kadyrov as a "true warrior and patriot".
This has raised suspicions that the murder was carried out on the orders of Chechen officials, which in turn has allegedly angered powerful figures connected with Russia's main intelligence agency, the FSB.
And that puts Mr Putin in a difficult position given his close relationship with the Chechen leadership.
But for now these theories - and the Swiss tabloid allegation that he was attending the birth of a love child in Switzerland - remain totally speculative.
The Kremlin controls the flow of information so tightly that it is extremely difficult to get even a hint of what is happening at the highest levels of government.
And of course at the end of it all when the mystery is finally resolved, it may turn out that the president simply had a bad case of flu.