Ukraine's refugees find new future in Poland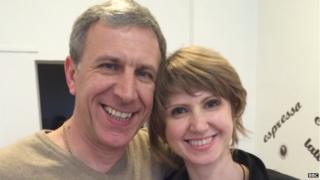 Poland became the first EU country in January to evacuate people from eastern Ukraine, to give them the opportunity of a new life away from the fighting.
Almost 200 Ukrainians from the Donetsk and Luhansk regions, carrying just one suitcase each, were bussed from the warzone to Kharkiv in north-eastern Ukraine before being flown to a military airfield in northern Poland.
To qualify for evacuation they had to have at least one Polish ancestor in the family.
Now they are living together in a centre run by Catholic charity Caritas. It sits in a beautiful location on a wooded hillside above a large lake a few kilometres south of the town of Stawiguda.
They can stay here free for six months. The children attend local schools and the adults receive adaptation classes and an intensive Polish language course.
After school some of the children play basketball on a concrete court outside the block while the pre-schoolers draw pictures in the playroom.
Each family has two plain, simple rooms. Some of the women congregate to chat and prepare food in the communal kitchens. Outside, mothers and fathers pace the corridors, some holding babies.
In the canteen, Tatiana Sokolova, 31, who worked for Ukrainian state TV before the war, sits at a long table covered in a plastic, floral-print tablecloth eating cucumber soup.
Before the war she and her husband had successful jobs and lived in a quiet street of private houses in Luhansk. The elder of their two young daughters attended one of the best schools in the city.
"In November when the fighting started again, while my daughter was at school I heard the explosions," Tatiana says.
"My TV set and the books on the shelves were shaking. Before my husband brought my daughter home were some of the longest and hardest minutes," she said.
No choice
For Tatiana it was a very difficult decision to leave her home, work, parents and friends, but "when it's a question of the lives of your children, there is no alternative".
She thinks about the people she left behind, and tears roll down her face as she recalls neighbours racing to the basement at the sound of explosions.
"The daughter of a friend of ours asked her father, 'What will happen to me and our home if the Grad (rocket) bombs our house?' Our friend has no answer," she said.
Victoria (not her real name) is a 25-year-old PhD sociology student who came to Poland with her mother from Donetsk.
Her mother's dream, she said, had been to open her own dental clinic. After many years she succeeded. It had only been open for two-and-a-half years when they left.
"Initially she didn't want to leave Donetsk because she was very, very attached to it. I was trying to convince her to leave the city and only at this moment did she start to consider the possibility," she said.
"Now she's very optimistic. I'm very surprised because of how she lost the clinic that she'd dreamt of all her life," she added.
Natalia Mudrievska, 43, had worked as an English and French language teacher and runs her own tourism agency. She left the Luhansk region with her husband and two small children.
"We left all our friends. It is very difficult but the safety of my children and a better life for them is more important. To tell the truth I can't see a better future for Ukraine," she said.
The centre is in an idyllic spot but on the day I visit there is still snow on the ground and the sky is a gloomy grey.
"There's less sun and very often I'm sad," Natalia said.
"My children are often ill because here in this building we have constant close contact with other children. We're waiting for summer," she said.
The programme's co-ordinator, Wlodzimerz Wieczorek, has said he is ensuring the evacuees' academic qualifications are legally recognised in Poland and Natalia is hopeful her language skills will help her find work.
Finding employment
A few days ago, the Polish Ministry of Interior Affairs sent Mr Wieczorek a list of 100 job offers for the evacuees, some of them with accommodation included. Plumbers, language teachers and construction workers are needed.
"Generally speaking I'm optimistic that those who would like to find a job in Poland will find one, but I'm not sure they will be able to continue their careers according to their qualifications. Maybe they will have to take one step back," he said.
"I have a great dream," Tatiana said. "Like everyone I would like a good job, my own house, good education for my children."
Her optimism was reflected by all the evacuees I spoke to about their new lives in Poland. Whether they will stay for good is a question for the future.