Dieudonne guilty of condoning terrorism with Charlie Hebdo comment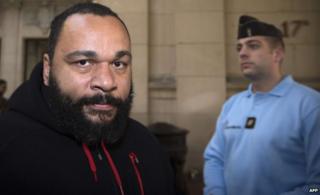 The controversial French comedian Dieudonne M'bala M'bala has been found guilty of condoning terrorism.
He had posted on Facebook "I feel like Charlie Coulibaly" just days after the Paris attacks in January.
The post combined the "Je Suis Charlie" slogan with the name of one of the three gunmen involved in the attacks, which included a mass shooting at the Charlie Hebdo satirical magazine.
Dieudonne was given a two-month suspended sentence by the Paris court.
Dieudonne posted the comment on Facebook - in French "Je me sens Charlie Coulibaly" - following a huge march in Paris to condemn the attacks, in which 17 people were killed.
"Je Suis Charlie" banners featured heavily amongst marchers and quickly became a widely used slogan in solidarity with those killed.
The comedian told the court that he condemned the attacks "without any ambiguity". He said the post was intended to illustrate how he often feels treated like a terrorist.
He had faced up to seven years in prison and a potential €100,000 ($106,000, £72,000) fine.
Racial hatred
Coulibaly killed a policewoman near a Jewish school on 8 January before going on to murder four Jewish hostages in a kosher supermarket.
On 7 January, two other gunmen killed 12 people at magazine Charlie Hebdo, a satirical magazine that has frequently launched withering attacks on religion, including cartoons of the Prophet Muhammad.
Dieudonne insists he is not anti-Semitic but has a number of convictions for inciting racial hatred.
Several French cities have banned the comedian from performing.
He rose to prominence through the invention of the "quenelle", a hand gesture critics have liked to an inverted Nazi salute.