Belgium's Reynders criticised for painting face black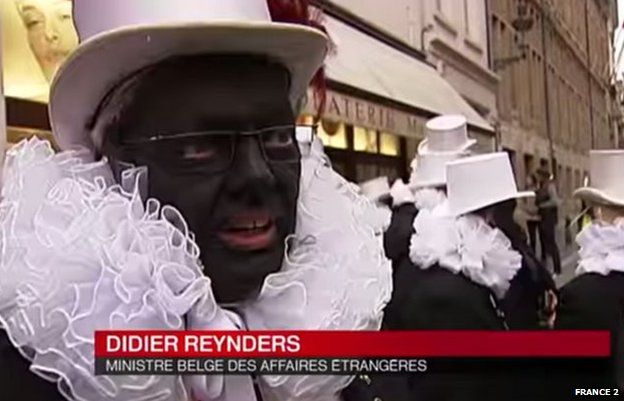 Belgian Foreign Minister Didier Reynders has drawn sharp criticism for having his face painted black during a traditional festival in Brussels.
Human Rights Watch said Mr Reynders should be ashamed and there was criticism across social media after French TV reported on the parade.
The Noirauds (blacks) festival, also known as "Zwarte" in Dutch, takes place on the second Saturday in March.
Mr Reynders said the tradition dated to 1876 and could not understand the fuss.
Brussels' city authority says on its website that the tradition of dressing up as "African nobles" was created to save a nursery from bankruptcy.
The foreign minister, who published photos of himself at the parade on his blog earlier this week, wrote on the page that the money raised went straight to children in need, through hospitals, schools and pharmacies.
"We make ourselves up like this so that we're noticed but stay anonymous," another man explained on France 2 TV.
But the channel's Brussels correspondent, Francois Beaudonnet, who broadcast the report, wrote on Twitter that it combined old colonial cliches along with folklore and generosity.
Brussels officials have pointed out that King Philippe of Belgium himself dressed up in the special outfit for the festival when he was crown prince.
However, Andrew Stroehlein of Human Rights Watch condemned the foreign minister's costume as "shocking and embarrassing", arguing that tradition and charity could not justify racism.
He wondered on Twitter whether Mr Reynders would make himself up in the same way for his next meeting with African leaders.