French court clears foie gras producer of animal cruelty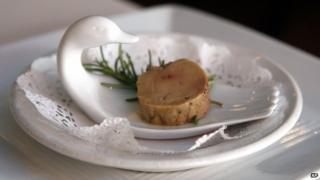 A French court has cleared a well-known foie gras manufacturer of cruelty against animals.
The decision came after the animal rights group L214 released a video showing ducks confined to individual cages, barely able to move.
The video supposedly showed farms contracted to producer Ernerst Soulard, but the company maintains it was faked.
Foie gras is a traditional liver pate, made by force-feeding corn to ducks or geese.
"It has been demonstrated that the images that caused such a stir on the internet were falsified, so justice has been done," Roland Tonarelli, director general of Ernest Soulard told the news agency AFP.
The gruesome video prompted some top chefs, including Joel Robuchon and Gordon Ramsay, to stop serving Ernest Soulard products, but Mr Tonarelli said the company had "turned the page" with its clients.
L214 deny manipulating the video. Their lawyer, Helen Thouy, said she was disappointed with the court decision but the process of banning force-feeding would be a long one.
"One day, we will look back on the force-feeding of animals as a barbaric practice to be filed away in the museum of horrors," she said.
'Charlie is my darling'
Separately, an animal rights activist wearing a goose costume thanked Britain's Prince Charles for his stance against foie gras on Thursday.
The activist from People for the Ethical Treatment of Animals (PETA) was standing outside the White House in the US, where Prince Charles was to meet US president Barack Obama, holding a placard reading "Charlie is my darling for banning foie gras from royal menus".
In 2008, Prince Charles is reported to have ordered his personal chefs to stop buying foie gras.
---
What is foie gras?
Foie gras is a delicate luxury pate, mainly enjoyed in France at Christmas and New Year
While foie gras can be produced by natural feeding, in France it must be made by a process known as gavage, in which ducks and geese are force-fed corn through a tube
The force feeding occurs for about two weeks after the animals reach maturity
This practice is banned in some countries