Kurd leader Ocalan calls for congress to end Turkey armed struggle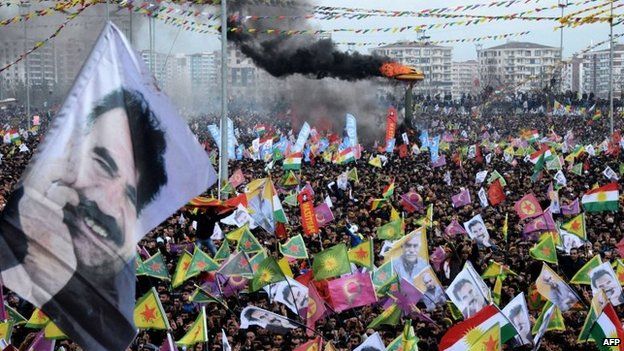 The jailed Kurdish rebel leader Abdullah Ocalan has renewed a call for his fighters to end their armed struggle in Turkey.
In a message read out at a huge rally marking the Kurdish new year, Ocalan called for a congress to decide on abandoning the insurgency.
His Kurdistan Workers' Party (PKK) has been waging a 30-year armed struggle for Kurdish independence.
He called a ceasefire in 2013 and there are growing hopes of a long-term deal.
More than 40,000 people, mostly Kurds, have died in fighting for a Kurdish homeland in Turkey's south-east.
Analysis: Guney Yildiz, BBC Kurdish affairs analyst
Today's statement by Ocalan, read in front of hundreds of thousands of people, was a key step in a process that both Turkish and PKK officials believe is the most important issue facing the country.
A senior Turkish official told the BBC that a solution to the Kurdish question would have repercussions that go well beyond Turkey's borders, affecting Syria, Iraq and Iran, as well as non-regional powers. A senior Kurdish politician said a solution would help Kurds defeat Islamic State (IS) militants across the border in northern Syria.
One significant difference in this year's Newroz celebration was that the flags of the People's Protection Unit (YPG) - a close ally of Turkey's Kurds across the border in Syria - were so widespread, signalling that although the Kurds may be ending their armed struggle against Turkey, they will continue the fight against IS in Syria and Iraq.
Ocalan has been in prison since 1999, serving a life sentence for treason.
His message was delivered instead by Sirri Sureyya Onder, a pro-Kurdish politician who visited Ocalan in jail on Thursday.
Hundreds of thousands attended the celebration in Diyarbakir, the largest Kurdish-populated city in eastern Turkey, with many carrying images of the imprisoned leader.
A ceasefire announced by Ocalan in 2013 still holds despite ongoing mistrust between the two sides.
Stumbling blocks remain. President Recep Tayyip Erdogan angered some Kurds by saying the country "never had a Kurdish problem".
Turkey is facing parliamentary elections later this year, with analysts suggesting Mr Erdogan's comments were an attempt to shore-up nationalist support.