Europe far-right parties meet in St Petersburg, Russia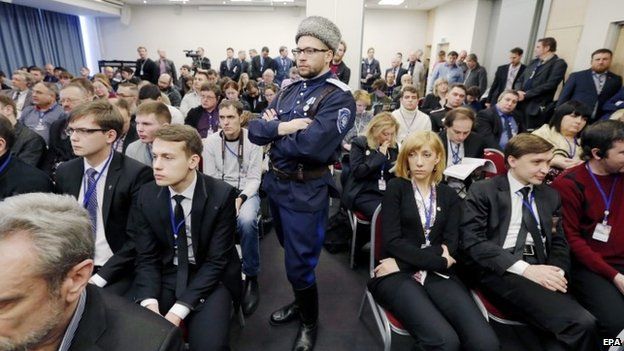 Some 150 representatives of far-right parties across Europe have been meeting in Russia to co-ordinate policy.
The event in St Petersburg, organised by the pro-Kremlin Rodina party, heard strong criticism of the West's support for the Ukrainian government.
Those attending included the ousted leader of the British National Party, Nick Griffin, Udo Voigt from the German neo-Nazi NPD, and Greece's Golden Dawn.
A small anti-fascist protest outside the venue was dispersed by police.
Organisers say the event, the International Russian Conservative Forum, is aimed at promoting "traditional values" and uniting nationally-orientated forces in Europe and Russia.
Opponents say it is a contradiction for Russia to host such a meeting while the Kremlin criticises what it sees as "fascist" tendencies in the Ukrainian government.