Graham Dwyer trial 'fascinated people across Ireland'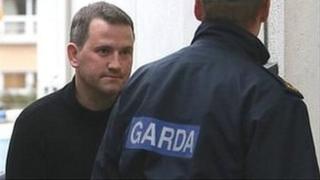 The trial of Graham Dwyer for the murder of Elaine O'Hara has fascinated people in the Republic of Ireland.
The 43 day trial heard from 194 witnesses.
Her remains were found in the Dublin mountains in September 2013 by a woman walking her dog in a wooded area.
Miss O'Hara, 36, had depression and mental health problems. She had been missing for 13 months.
By a strange coincidence, items belonging to her were found at about the same time as her body several miles away in a reservoir in County Wicklow during a period when water levels were low.
Handcuffs were also found in the Roundwood reservoir.
After an investigation, police arrested Graham Dwyer, 42, an architect from the up-market Foxrock suburb of Dublin.
The married father has denied any involvement in her murder on 22 August 2012.
The trial heard evidence that he and Ms O'Hara had a bondage and sado-masochist (BDSM) relationship in which he was the master and she was the slave. The court was told that he fantasised about stabbing a woman to death for sexual gratification.
It is understood the two first got to know each other via a BDSM adult-contact website.
The jury was shown graphic videos and documents on Mr Dwyer's computer that gave an insight into his sexual tastes.
In the videos he "knifed" women, willing victims, including Elaine O'Hara, during sex.
The prosecution argued that the two were in regular mobile phone text contact and that he took advantage of her vulnerability and her often stated desire to kill herself.
The trial also head from an American woman, Darci Day, who said she had met Graham Dwyer online and that he had offered to kill her while she was suicidal.
But the defence countered that there was no evidence that he murdered Miss O'Hara. They said that there was no evidence of stab wounds on the retrieved skeletal remains.
Nor was there any evidence that the phones used by the "master" and the "slave" could be linked to the accused, they said.
But Mr Justice Tony Hunt in his summing up said that if the comment/texts on one of the mobiles "are not referable to Mr Dwyer, they are referable to somebody who bears a an astonishing similarity to aspects of his life."
Graham Dwyer did not give evidence.
In his summing up, Mr Justice Tony Hunt told the jurors that proof of having unusual fantasies was not a crime.
He said that what they had seen and heard would not lend them to a frame of mind where they would think well of Mr Dwyer.
He said that no-one could have a good opinion of the kind of thing he had seen.
But the judge said that what anyone thought of Mr Dwyer was entirely irrelevant: the jury had one count on the issue paper - whether or not Mr Dwyer was guilty of the crime of murder.
"One thing that you can say for certain is two people met that night, one came home and one didn't, that is for sure, you can state with absolute certainty", he said.