How Ukraine rebels rely on Russians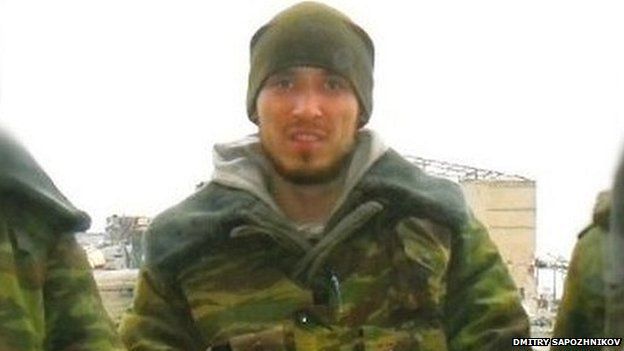 Who are the Russian "volunteers" serving with pro-Russian rebel forces in eastern Ukraine? The BBC's Olga Ivshina obtained a rare interview with a Russian special forces soldier, who described the key role played by Russian troops in recent fighting.
He has been recovering from concussion in St Petersburg, but spoke to the BBC earlier via Skype from Donetsk in eastern Ukraine.
Dmitry Sapozhnikov joined the rebel "Donetsk People's Republic (DPR)" forces last October, but he was wounded in heavy fighting when the Russian-backed rebels pushed Ukrainian troops out of Debaltseve in late February.
Russian officials consistently deny that soldiers like him are fighting in eastern Ukraine.
But Dmitry said "all operations, especially large-scale ones, are led by Russian officers, by Russian generals".
"They develop plans together with our commanders. And then we fulfil the orders."
A shaky ceasefire is generally holding, despite many violations. The strategic town of Debaltseve fell to the rebels soon after the ceasefire was signed.
The DPR says Dmitry's special forces unit of Russian "volunteers" fought on the frontline in the battle for Debaltseve.
On 9 February his unit managed to take control of a main road, cutting Ukrainian forces off from their hinterland. The rebels were unable to hold the road for long, Dmitry explained.
"But then Russian tanks arrived. This was a tank unit from Buryatia [a region in far-off Siberia]. Thanks to their help and their armour we managed to take Debaltseve."
Dmitry had served earlier as a conscript in the Russian interior ministry forces. He said most of his duties consisted of guarding transport infrastructure in St Petersburg.
But after joining the rebels in eastern Ukraine's Donetsk region he was assigned to special forces duties. He had performed well at a training camp there.
Later on, he said, a Russian who had served in the French Foreign Legion trained them.
Russian regular units have been crucial at difficult moments for the rebels, when operations required disciplined and well-trained troops, Dmitry explained.
Western leaders, the Ukrainian government and Nato say there is clear evidence of Russian military involvement in the fighting.
According to US Lt Gen Ben Hodges, a senior commander in Europe, nearly 12,000 Russian troops are operating inside Ukraine.
Russia has rejected those allegations. "These figures, which are plucked out of the air, of course demoralise and disorientate the international community," said Russian foreign ministry spokesman Alexander Lukashevich.
Dmitry recalled that a year ago Russia had also denied using its armed forces to seize control of Crimea.
But recently Russian state TV showed a documentary in which President Vladimir Putin admitted to planning the annexation of Crimea from the start - well before Russian and local paramilitary forces took control.
"I think it will be the same here, in Donbas. First they deny it, but then they will admit it," Dmitry said.
He suspects that there is a "secret agreement", whereby "the West turns a blind eye to Russian involvement and Russia pretends it doesn't notice American and European soldiers operating on the Ukrainian side".
Some 35 British military personnel have started training Ukrainian soldiers in the southern city of Mykolaiv and will spend about two months in the country. The UK is providing some non-lethal equipment and the training focuses on medical aid and defensive tactics. It will not change the military balance of the opposing sides.
More than 6,000 people have died since fighting erupted in Ukraine last April, the UN estimates - but it believes the real figure could be considerably higher.
Dmitry says the fighting in eastern Ukraine has completely changed his understanding of life. Now he is wondering whether to return. He is still sure he did the right thing, defending "the interests of the Russian-speaking population and Russians in Donbas".
That is a view shared by many Russians, though the experiences of people like Dmitry have prompted searching questions about the conflict in eastern Ukraine.