Putin's phone-in: Milk, marriage and missiles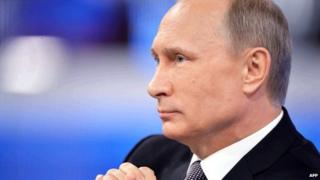 President Vladimir Putin focused on domestic issues during his annual live question-and-answer session with members of the public and the political elite shown earlier today on Russian TV.
Unlike in most news and current affairs programmes on state TV, foreign policy took a back seat as many appealed directly to the president for help on issues ranging from overdue wages to pets and marriage.
President Putin kicked off on an upbeat note, saying that Russia's GDP and industrial output had grown despite, perhaps even because of, Western sanctions, while inflation had been curbed and the rouble was rising again. "We have something to be proud of," he announced.
But the first question from the public painted a sharply different picture. "Prices have shot up, but salaries have stayed the same or even gone down," complained a woman from Russia's Far East. "We are struggling to survive. For how long will this go on?"
"Indeed, real incomes have decreased," the president admitted, but promised that help was on its way.
The conversation then focused largely on agriculture as Mr Putin was tested on his knowledge of the intricacies of the Russian dairy industry.
He also faced tough questioning from former Finance Minster Aleksey Kudrin, who said that Russia was falling behind the rest of the world in terms of economic growth.
It took more than an hour to get to the subjects most eagerly awaited by foreign journalists.
"I'll tell you openly and directly: there are no Russian troops in Ukraine," Mr Putin asserted. The recent killing of government critic Boris Nemtsov "is a shameful and tragic event", he said in the next breath.
He also said Russia was perfectly entitled to sell Iran S-300 missiles because of the progress made in talks on Tehran's controversial nuclear programme.
The general tone of his foreign policy remarks was not generally belligerent, except when it came to Washington. He accused the US of ordering many world leaders to stay away from the Victory Day parade in Moscow on 9 May and said that it " wants vassals rather than allies".
The president also received several personal appeals. A woman broke down in tears while describing the aftermath of devastating wildfires in Siberia. "We are waiting for help from you, help us please," she said.
A record-breaking three million questions were sent in, presenters claimed, and by no means all were entirely serious. Many invited the Russian leader to tea; one woman asked him to tell her friend's husband to allow a pet dog in the house; and a young man asked for help in getting his girlfriend to marry him.
"Is it difficult being a president? How many hours a day do you sleep?" a four-year-old boy asked in a video message. "You'll manage," Mr Putin responded. "And if you like to sleep, you'll make a healthy president."
Towards the end of the four-hour broadcast, he was asked if he'd like to be cloned or become UN chief. In each case, the answer was a firm "No". He also spoke how he and former German Chancellor Gerhard Schroeder were in a sauna when a fire broke out. Both escaped, but Schroeder insisted on finishing his beer first, Mr Putin said.
BBC Monitoring reports and analyses news from TV, radio, web and print media around the world. You can follow BBC Monitoring on Twitter and Facebook.