Margrethe Vestager - Denmark's EU 'tax lady' taking on corporate giants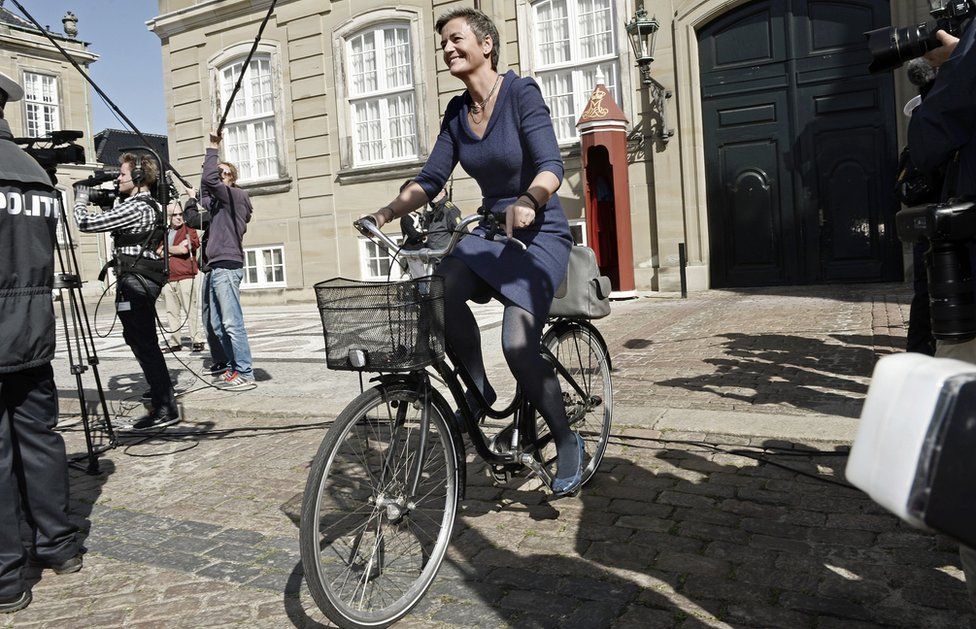 Google, Apple, Amazon, Starbucks, Ikea, Qualcomm and Gazprom. The European Union's drive for tax fairness has brought competition cases against one multinational after another.
And in the vanguard is Denmark's no-nonsense woman in Brussels, Margrethe Vestager.
A star in Danish politics, she joined Jean-Claude Juncker's Commission team in Brussels in 2014 and has declared heavy fines for big corporate names ever since.
Apple has been hit with a €13bn (£11.5bn; $15bn) bill for back taxes.
Now Google faces a second multi-billion-euro fine for abusing its market dominance. The first, for €2.4bn, was for its shopping service. The latest, for €4.34bn, is for its Android mobile phone system.
Ms Vestager has earned the wrath of President Donald Trump: "Your tax lady, she really hates the US," he is reported to have told her boss, Jean-Claude Juncker.
But she believes companies must pay their way.
Fine of €4,34 bn to @Google for 3 types of illegal restrictions on the use of Android. In this way it has cemented the dominance of its search engine. Denying rivals a chance to innovate and compete on the merits. It's illegal under EU antitrust rules. @Google now has to stop it

— Margrethe Vestager (@vestager) July 18, 2018
"The motives that are breaching competition law are as old as Adam and Eve. It's about greed. Fear," she said in a speech in 2017. "And when you combine that with power you get a very poisonous cocktail."
Her mission is to protect consumers and competition and certainly not hatred of the US, she insists. "I very much like the US. I'm from Denmark and that tends to be what we do."
In her home country Margrethe Vestager (pronounced VES-taya) has a reputation for being tough, very decisive and hard to scare, one party colleague told the BBC.
It came as no surprise in Denmark that she took on two major multinationals in the space of a week in 2015: first Google for anti-competitive behaviour and then Russia's state-owned energy giant Gazprom for abusing its position in gas markets.
And yet she is renowned at home for knitting, bread-making and tweeting just as much as tackling issues that no-one else has yet dared to touch.
Former colleagues insist that she, not ex-Prime Minister Helle Thorning-Schmidt, was the true model for the fictional woman prime minister in the hit Danish political drama Borgen.
Ms Vestager, as leader of the centrist Social Liberals (Radikale Venstre), has already played a big role in challenging the status quo at home.
While still in opposition, she pushed the ruling coalition to cut an early retirement programme and raise the retirement age from 60 to 65 in early 2011.
Danes hated it at the time, but that major reform did her no harm. In reality, her party's fortunes soared and polled 9.5% in elections a few months later.
Borgen writer Adam Price once attended a party convention and has since spoken of Ms Vestager as the woman who inspired the character of Birgitte Nyborg, the leader of a small party, the Moderates, propelled to the post of prime minister.
In the series, Nyborg's marriage fails as she tries to juggle the demands of running a minority government with keeping a family going.
Ms Vestager, in contrast, appears unfazed. Her family moved to Brussels, while one daughter stayed in Copenhagen to study.
Made chair of her party at the age of 21
Education minister 1998-2001
Becomes party leader in 2007
Economic and interior affairs minister 2011-14
Joins European Commission August 2014
Seen in Denmark as left of centre on immigration and gay marriage
Viewed as right-wing on welfare
'In Brussels, no-one can hear you scream'
She wrote poetry during coalition talks after the 2011 elections and became renowned for her love of knitting and baking.
Party colleagues describe her as a mother figure who always remembered their birthdays, and that has continued during her time in Brussels.
When former Prime Minister Helle Thorning-Schmidt nominated her for the post in Brussels, tongues wagged in Copenhagen.
Was this an attempt to be rid of a troublesome minister, as depicted in a memorable Borgen episode entitled, "In Brussels no-one can hear you scream"?
That seems unlikely. Ms Thorning-Schmidt was herself being touted for a top job in Brussels.
Margrethe Vestager, 50, has one of the toughest and highest-profile briefs in Brussels.
She is now being talked of as a contender in the 2019 race for the presidency of the European Commission.
"She would be what Europe needs at this time: someone who could bring Europe back on track," says party colleague Ida Auken.
At home she is also viewed by some as a potential prime minister, but such a return from Brussels would be unprecedented and commentators say it is hard to imagine.
For now she is winning praise and opprobrium in equal measure in her headline-grabbing role taking on the multinationals.
One French MEP, Alain Lamassoure, believes she deserves a statue for having the guts for the task.
But Apple CEO Tim Cook's response to a €13bn tax bill was less than flattering.
"It's maddening, it's disappointing, it's clear this comes from a political place, it has no basis in fact or in law," he said.
Vestager's roll-call of targets
Under her watch, the Commission has faced accusations of targeting US corporations, such as Starbucks and Amazon, as well as Google and Apple. That is vehemently denied in Brussels.
The fines imposed on US multinationals are certainly high, but Ms Vestager's department has gone for other targets far closer to home.
The sweetheart deal that Apple benefited from was state aid from the Irish government, and it will be Dublin that has to collect the money.
Luxembourg's government was caught out too, in the "Luxleaks" scandal, which revealed that top companies such as Fiat and Amazon were allowed to funnel millions of euros in profits through subsidiaries in the Grand Duchy and pay precious little tax. France's Engie power company has also been hit.
Ms Vestager's boss, Jean-Claude Juncker, was Luxembourg's leader when the deals were struck.
Other EU states have been fingered too. The Netherlands is under investigation into its tax arrangements with Ikea and has already been told to collect back taxes from Starbucks.
Some have questioned her decision to take on Google's Android system, arguing it could harm consumers in Europe.
So why does she persist? One colleague in Copenhagen told the BBC: "She's a political go-getter who stands up for her beliefs."
The commissioner herself stresses that she is acting against unfair competition not against a firm's market dominance, as long as that status is fair and legitimate. And that is her message for Google too.
"If you look for something, you say, 'Let me Google it'. I think you should congratulate a company that is so successful," she said.